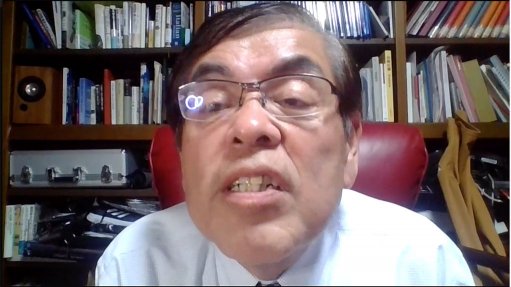 Prof Katsuhiko Hirose
Photo by: Creamer Media
JOHANNESBURG (miningweekly.com) – Thirty-million jobs can be created through the introduction of the hydrogen economy to decarbonise the world, HyWealth founder and CEO Professor Katsuhiko Hirose said on Wednesday.
While hydrogen is currently more expensive than fossil fuel, green hydrogen will be the cheapest solution by 2050, with blue hydrogen able to play a lower cost role in the interim, Hirose said during a webinar moderated by Nedbank CIB mining analyst Arnold van Graan. (Also watch attached Creamer Media video.)
An investment of $100-billion was the 2018/19 estimate needed to transition to a hydrogen society, but in 2020, suddenly trillion dollar stimulus packages were announced that made the $100-billion needed appear considerably more moderate, said Hirose, who worked on the Prius, the world's first commercial hybrid vehicle, and the Mirai, one of the most successful fuel cell passenger vehicles, during his career at Toyota.
The European Union put in place a huge investment programme targeting 40 GW of hydrogen electrolyser implementation in 2025 to 2030, Mining Weekly can report.
"That is actually the way to reduce the cost of green hydrogen," Hirose said, adding that holistic transitioning to hydrogen was economically valuable.
Even without carbon tax, hydrogen could already compete with the oil price and had significant societal value.
His conclusion was that the implementation of a hydrogen economy should be accelerated in that it was not only clean and green, but would also enrich society, improve trade balances, create more jobs, improve energy security and reduce global conflict.
Hirose spoke after Switzerland-based E4tech director Professor David Hart who described the most exciting advance of hydrogen fuel cell vehicles as being on the heavy-duty side.
He showed a picture of a Hyundai fuel cell truck that he is seeing on Swiss roads and which are expected to grow in number to 1 600 in the coming two to three years.
"We've seen Toyota with Hino announce that it will be starting to release its various developments. There is a very exciting joint venture between Daimler and Volvo, which is looking at putting liquid hydrogen into trucks to get better range and storage. That builds on 30 years of fuel cell development at Daimler, which was originally for their light-duty vehicle platform and has now shifted to be heavy duty," he said.
There were also start-ups such as Hyzon Motors, which had raised a lot of money to commercialise a ground-up fuel cell truck prospect.
"There's an awful lot going on and that means that there's an awful lot going on in the supply chain as well," Hart said, adding that even heavier duty examples were in mining, rail transport and shipping.
Isondo Precious Metals CEO Vinay Somera, who has 30 years of experience within the platinum group metals industry, outlined his company's push for membrane electrode assembly manufacture for fuel cells at the OR Tambo special economic zone and displayed impressions of Isondo's facility to house manufacturing plans with clean room environments.
Somera founded Isondo in 2013 to develop a local platinum beneficiation business after spending 25 years within the Implats group.
UK Hydrogen Hub chairperson and EnAcumen CEO Kevin Fothergill, who serves as technical consultant to Isondo, said some areas in South Africa were among the best resource areas for solar and particularly good for wind energy as well.
But many of South Africa's centres of population were not in the best areas for the generation of renewables and there would be a need to transport hydrogen, investment which he believed should be made.
Fothergill, who has 35 years of experience in the hydrogen and fuel cell industry, was instrumental in establishing Johnson Matthey Fuel Cells, a leader in hydrogen and fuel cell technologies. He co-founded the UK Hydrogen Hub, which supports businesses and local authorities in the adoption of hydrogen applications. He has been involved in various initiatives facilitating the introduction of hydrogen and fuel cell technologies into the market.