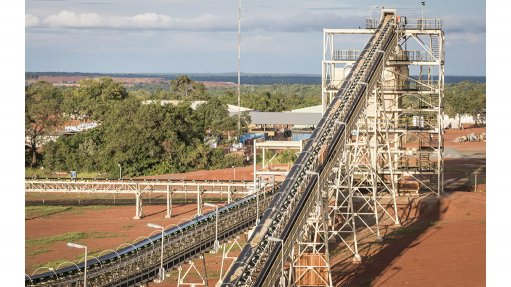 Yanfolila gold mine in Mali
Aim-listed Hummingbird Resources has reported a diluted loss a share of $2.78c for the financial year ended December 31, 2021, compared with the earnings a share of $5.02c reported for the 2020 financial year.
Hummingbird currently has two core gold projects, the producing Yanfolila gold mine, in Mali, and the Kouroussa gold development project, in Guinea. Further, the company has a controlling interest in the Dugbe gold project, in Liberia, which is being developed by mineral exploration company Pasofino Gold under an earn-in agreement.
"2021 was another year of overcoming challenges, which included production disruptions and headwinds relating to Covid-19, together with social and political volatility in both Mali and Guinea," Hummingbird nonexecutive chairperson Russell King said with the release of the 2021 year-end financial results on May 27.
He said these challenges had translated into Yanfolila's operational performance in 2021 being below that of the previous year.
"These challenges brought forward initiatives to improve the long-term viability of our production assets, which included strengthening our management team and expanding our growth platforms, in particular at Kouroussa in Guinea.
"As a board, we are confident that the steps taken to address these issues have attended to the root causes of the disruptions faced by the company," King said.
For the 2021 financial year, Hummingbird produced 87 558 oz of gold, compared with 101 069 oz in 2020, leading to $156.6-million in sales, compared with $181.7-million the year before.
King said Hummingbird's strategy of diversifying away from having a single producing asset at Yanfolila remained central to becoming more resilient. One of Hummingbird's strategic objectives is to become a multi-asset, multijurisdiction gold producer, which included the development of the company's second producing gold mine, Kouroussa.
Despite several significant advances in terms of this strategy throughout the year in both Liberia and Guinea, Hummingbird CEO Dan Betts said everything was overshadowed by the overall underperformance of the Yanfolila mine.
"This performance has damaged our share price and financial performance, and it is our highest priority to ensure Yanfolila delivers better overall operational performance going forward. As such, we have taken significant steps to return operational performance to where it should be," he stated.
Central to these changes has been the appointment of a group COO, as well as the implementation of remediation initiatives with Hummingbird's contract miner, whose excavator fleet underperformed in the latter part of 2021.
"We understand that, despite the opportunities and prospects the company has developed, these are worth little if we do not deliver reliable operational performance. The focus over the past six months has therefore been to significantly increase the operational efficiency and the availability of the mining fleet and ensure that the mining is in step with the quality of our processing ability," Betts said.
He said there was a critical need to show operational improvement at Yanfolila and that was a key focus area for the year ahead, with a material amount of management time being spent on increasing productivity.
"Work has already begun with the implementation of several initiatives focused on stabilising our production, including the delivery and commissioning of additional excavators, and the essential maintenance of the processing plant, which will aim to deliver a more disciplined and predictable state of operations," Betts assured.
Outside of Yanfolila, Hummingbird will continue with the development of Kouroussa, with construction rapidly advancing and major civil works currently under way.
"The key priority for the project management team is to deliver the project on time, on budget and safely, with zero tolerance towards unsafe behaviours and practices," Betts said.
He warned, however, that the macro-environment, in terms of inflationary pressure and political instability in West Africa, provided a challenging backdrop.
He said the company would increasingly focus on operational readiness as the current financial year progressed so that mining could begin as planned in 2023.
Meanwhile, at Dugbe, with a detailed feasibility study (DFS) to be issued soon by earn-in partner Pasofino, Betts said Hummingbird would reach a significant milestone on the project.
"Post the DFS, we have the opportunity to deliver meaningful shareholder value on Dugbe, and we will be carefully reviewing the best options for the company in terms of taking this project forward," he said.