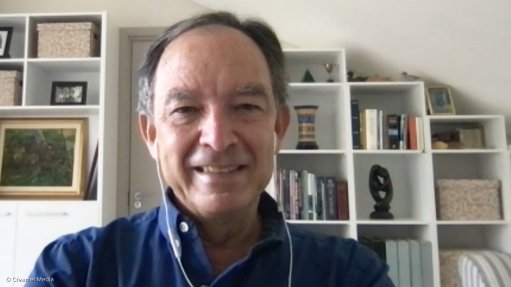 Adrian Reynolds
Photo by: Creamer Media
JOHANNESBURG (miningweekly.com) – Of four factors required to attract investment in exploration, economic and fiscal stability is the most important, says highly experienced geological and mining consultant and nonexecutive company director Adrian Reynolds.
Reynolds spoke to Mining Weekly in a Zoom interview about the factors that the hugely successful Randgold Resources, now part of the global Barrick Gold, took into account when investing so successfully in exploration in Africa. (Also watch attached Creamer Media video.)
He recalled that Randgold's method was to classify every country in Africa into four categories, taking these four factors into account:
geological opportunity, which is by far the most important and which, he says, South Africa passes with flying colours;
political stability, where South Africa's box can also be ticked when compared with the many African countries where exploration investment goes ahead despite the politics;
infrastructure, where South Africa fares better than any other country in Africa, Eskom's problems notwithstanding, as mines are accustomed to dealing with power shortcomings; and
economic and fiscal regime, the stability of which he regards as being absolutely essential and the biggest requirement by far.
Geologically, South Africa is, he says, "fantastic", with exploration potential still being "enormous", especially in highly prospective areas like the northwest part of the Northern Cape, which he describes as being "hardly touched".
"There's all the base metal potential there, and there are only a few of the prospects that have ever had a drill hole in them," says Reynolds, who believes that with the correct economic and fiscal stability, even Witwatersrand basin gold would attract investment to look to finding ways of extracting the remaining gold: "We know what's still there, but we just don't know how to get it out economically."
On political stability, he says: "There are obviously a few doubts, but when you consider where explorers are working, in the DRC, in Sudan, in Mali and places where there is insurrection, Mozambique at the moment, mining companies get around that sort of thing and in general incoming governments understand the importance of a stable mining industry and the importance of having the expertise and the technology that comes from the mining companies. In general, they reach a consensus so I don't think politics is the big thing."
But what is of absolutely crucial necessity is economic and fiscal stability: "It's not the regime per se, it's not the percentage tax, it's not the royalty. It's the stability of the regime.
"You go into a country and maybe the tax rate is 50%, which is basically the case in Egypt. You look at it and ask, okay 50%, can the project carry that? If the project can, you're still going to go in there," he says.
But then a country offering a tax rate of 20% or 10% may induce an investor to go ahead with a much lower grade project and then suddenly be faced with a change of rules on the basis of high profits being made. Such instability is by far the worst risk, in his view.
"We've seen it in Tanzania in the last little while. The late President there changed the rules and there are very few people still doing active exploration there.
"In this country, black empowerment is absolutely correct and the right thing to do, but the rules were set and then the rules changed, and you can't live with that kind of thing. You've got to have stability," is Reynolds' very firm view.
CADASTRE SYSTEM
Investors need free transparent access to exploration opportunities and Reynolds finds that Canada and Australia offer significant assistance in this regard.
On the website of the British Columbia government in Canada, for example, he was able to access an interactive Google Earth Map that showed him the locations, size, geologies and grades of copper/gold porphyry deposits.
"It's online and it doesn't cost you a cent," he points out, and it is the same in Southern and Western Australia. All the relevant information is readily available, "at your desk".
DATA RETURNED TO GOVERNMENT
For exploration to be effective, the laid-down requirements that have to be fulfilled within specific timeframes must be carried out and when the requirements are not met and the incumbents lose the right to specific ground, the data collected by them during their period of tenure must be returned to the government and its availability made public for the benefit of the next exploration effort.
"It's often the fourth lot of exploring and the fourth lot of drilling that actually finds the deposit. If earlier information is lost, then you never get to the fourth level of knowledge," Reynolds points out.
TRAINING OF GEOLOGISTS
Reynolds has been taking note of how keen and eager young geologists are and would like to see the mentoring that formed a very beneficial part of the special training regimes of the past put back into effect.
"Despite how young and keen these geologists are, there's a gap there that needs to be filled," he finds.
NEW-ERA METALS REFINING
Exploration investors are likely to be happy with the infrastructure that is at their disposal in South Africa.
"Admittedly, we have a bit of a problem with power supply at the moment with Eskom, but there is nowhere in Africa, no matter what sort of power grid you have, that you don't put in backup power," he notes.
Where he thinks South Africa could do well for itself, however, would be to consider establishing processing facilities to serve the Southern African Development Community (SADC) region as a whole. Just as gold now comes into the Rand Refinery from different places in Africa, and platinum companies have refineries serving Zimbabwe, he believes that South Africa could enhance the country's position as an exploration and mining country by having refineries for strategic metals mined in the SADC region, for example, rare earth concentrate, from projects in Malawi, Tanzania, Mozambique and also South Africa. He names South Africa's Industrial Development Corporation as the kind of developmental organisation that might consider taking steps to arrange such local refining capacity.
On the extent to which entrenched stability could benefit the South African people, Reynolds expresses the view that guaranteed economic and fiscal stability could even revive South Africa's once world-leading status in gold mining in the Witwatersrand basin. "Stability will bring the money in again, and enable us to reap the rewards," is Reynolds' firm conviction.
Meanwhile, Mining Weekly can report that gold mining company AngloGold Ashanti has expressed its preparedness to enter into arrangements for the sale of drill hole cores, drilling results and reports to interested exploration and mining companies, with bookmarks being set up to make it easier to navigate to major goldfields along the Witwatersrand basin. AngloGold's exploration hub also enables searches through the use of farm names and ventures outside the Witwatersrand basin.
Mineral Resources and Energy Minister Gwede Mantashe has published for public comment draft Geoscience Act regulations relating to the compulsory submission of exploration data to the Council for Geoscience and the dissemination of that data, with representations needing be sent to representations@dmre.gov.za no later than April 19. Mantashe wants South Africa to move from attracting only 1% of the global exploration dollars spent, to attracting an ambitious 5% of the exploration dollars spent.