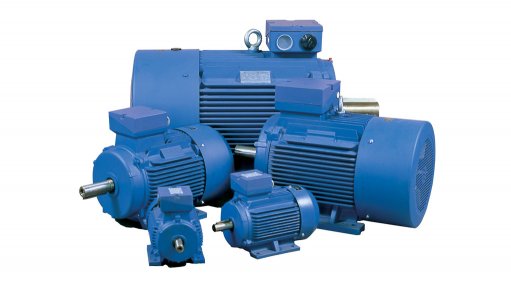 MORE OPTIONS Bauer is expanding its B2000 Geared Motors range to include a few intermediate sizes per type to be more competitive in the South African market
The failure of mining conveyor components, such as bearings, is most often caused by improper sealing arrangements, lubrication and installation, and can cost some mines up to R1-million an hour in downtime, says industrial equipment supplier Bearings International.
To decrease downtime, and ensure longer product life and ease of maintenance, Bearings International supplies component brands –such as FAG, Cooper and Bauer from industrial manufacturers Schaeffler, Cooper Bearings and Bauer Gear Motors – offering robust solutions for the mining conveyance industry.
The FAG range offers standard bearing units for conveyors, which include housings, bearings and seals. In June last year, the company launched its SmartQB preconfigured plug-and-play condition-monitoring system for bearing housings, electric motors, fans, compressors and gearboxes, which is a frontline detection unit for vibration analysis.
Bearings International national product manager Coenie van Deventer explains that this system takes only minutes to commission, with no special skills required, and reports the causes of possible defects on a 24/7 display monitor.
The system has six sensors that capture various anomalies and highlight errors, such as bearing damage, unbalance, friction or cavitation, as well as temperature increases.
Additional features include a live display of the current values, trend patterns and damage development, as well as an interface for service technicians displaying a component's operating hours, defect frequency, maximum values and mean values since its last evaluation.
Further, a significant feature of the company's standard housing range is the design of a split sealing arrangement, launched at the end of last year, which allows for seal replacement without having to remove the entire housing and bearing unit.
"Seals are often the weakest point of the bearing housing and can be time-consuming to replace. The split sealing arrangement allows for quick and easy replacement," notes Van Deventer.
FAG also offers a bolt-on taconite seal for arduous applications. Launched in the first quarter of this year, the seal prevents contaminants from entering the bearing housing and assists in the purging of contamination and old grease when regreased.
To further aid product life and ease of maintenance, Cooper supplies bespoke bearing maintenance solutions.
Bearings International national product manager Matthew Tyler adds that mining project houses have been a key focus for the bearing.
"We have completed major projects in the coal and platinum sector in the last year. The main application focus is on the conveyor pulley drum and main vent fans. The latest project [invovled the supply of] five new main vent fans for a diamond mine in Limpopo."
Bearings International is also supplying Cooper split bearings for pulleys to a conveyor that has been transporting coal from a mine to a power station in Limpopo. The contract will be complete in December. Further, the company finalised the supply of conveyor components for a platinum mine, also in Limpopo, last month.
Cooper's split bearings consist of two halves bolted together around the shaft, ensuring quick replacement times and ease of maintenance. The Cooper split unit consists of a bearing, swivel cartridge to accommodate the alignment, a variety of possible seal designs and the pedestal mount. All the components are totally split and held together using an Allen cap screw.
"Normally, the bearing and the coupling need to be taken off the shaft and the electric motor needs to be moved to replace a solid bearing," Tyler points out.
Additionally, Cooper offers its latest range of angled support pedestals, which was originally designed in the early 1960s and has been added to the standard manufacturing range.
The advantage of the angle support pedestal is that it slides underneath the shaft without having to lift the shaft or remove other components. This will assist in the bearing housing removal of the old unit and split bearing installation, ensuring ease of fit and reduced downtime.
Meanwhile, Bauer South Africa – sister company of Bearings International – sales manager Kobus Groenewald highlights that Bauer in Germany is expanding its B2000 geared motors range to include a few intermediate sizes per type, to be more competitive in the South African market.
He adds that Bauer South Africa is planning on expanding its current product range and services to cater for even bigger applications. These additions to the gearbox range and services will enable Bauer to garner greater market share in the local mining industry, supplying solutions for small automation and robust applications such as conveyors, stacker reclaimers and mills.
Van Deventer notes that Bearings International is celebrating 80 years of distribution in the Southern African market in 2017 – making it Africa's leading supplier of industrial equipment in this sector.