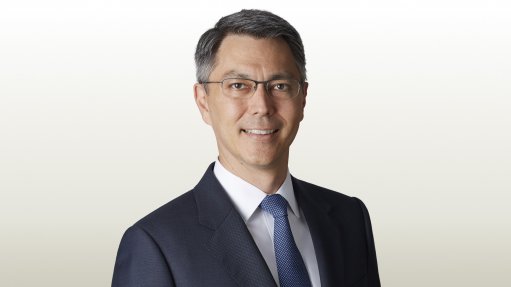 BHP CEO Mike Henry
PERTH (miningweekly.com) – Diversified miner BHP has urged the Australian government to maintain its trade relationships as political tensions with China continue.

BHP CEO Mike Henry said tension in international relations was antithetical to the prosperity of Australia, and the world, and was a trend that is in all of our interests to work to turn around.
"Australia is positioned to demonstrate to others the importance of investing in relationships and the power of trade. We have demonstrated for decades a firm belief in cooperation and collaboration in our region and beyond. The Australian government's leadership together with China and other nations to finalise the Regional Comprehensive Economic Partnership (RCEP) is such an example.
"Other nations may aspire to succeed in self-sufficiency and autonomy. Australia simply isn't built to succeed under this model. Our strength lies not in shutting ourselves in, but in being able to access the rest of the world – to export our resources, our services and our know-how," Henry said.
"The benefits of this approach multiply at home through employment, economic contribution and the creation of broader social value."
Henry said that it was encouraging that despite the challenges presented by Covid-19, signatories of the RCEP was formalised.
"The opportunity ahead is to not only implement RCEP effectively but also to build on the momentum created by the agreement. This will generate new opportunities for collaboration and reinvigorate important relationships, including possibly taking the first available opportunity for national leaders to meet face to face to celebrate their accomplishment and forge even closer ties.
"The example set by the RCEP signing could not have come at a more important time," Henry said.
"The very nature of the pandemic has unfortunately caused many nations to retreat inward – politically, socially and economically.
"Overcoming and recovering from Covid is going to require a collective and collaborative approach on a truly global basis. We must return the world to growth to help improve living standards and do it in a way that is sustainable and benefits all. For us to 'build back better', we must 'build back better, together'."