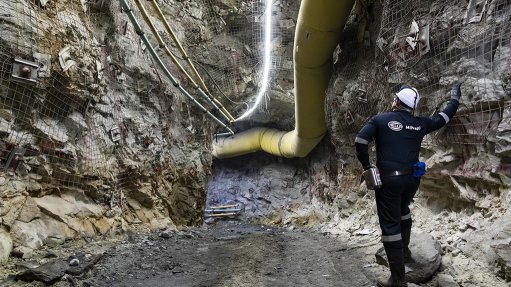 HELLA lighting solutions for the mining industry
Being a thought leader in the industry of mine lighting, HELLA is proud to introduce the next step of innovative mine lighting.
The importance of high visibility on a mine site is critical to any mining operation to maintain a safe working environment.
HELLA FlexaTec ensures homogeneous illumination of the working environment. Available as 110 V and 230 V AC versions and with a colour temperature of 5 000 Kelvin, the FlexaTec light is very similar to daylight. This means that colours can be distinguished more clearly in the dark, making sensory perception significantly easier and preventing workers' eyes from tiring quickly during a work shift in a dark underground mining environment.
The flexible light emitting diode (LED) light strip from HELLA, designed for mining and other industrial applications, is available in 10 m, 80 m and 100 m lengths, depending on the region. Individual 10 m lengths can be interlinked and lock into place via plug and socket end clips, up to a length of 100 m from one power source.
Installation is easy, thanks to the specially designed clips.
FlexaTec is the perfect lighting solution for underground mining environments.
Experience the next level in lighting performance with HELLA and FlexaTec.
Product features:
Light output (measured): 1 200 lm per meter (110 V AC) / 1 500 lm per meter (230 V AC)
Power requirement: 11 W per meter (110 V AC) / 15 W per meter (230 V AC)
Colour temperature: 5 000 Kelvin
Suitable for 110 V or 230 V AC applications
Material: PVC (flammability classification V0)
IP 6K7
Operating Temperature: -20 °C to +40 °C
CB (IEC 60598-2-1:1979/AMD1:1987; IEC 60598-1:2014/AMD1:2017)
supplementary tests: CRS, SAA
ETL (UL 1598:2018 Ed.4 & CSA C22.2#250.0:2018 Ed.4)
Quick fastening via specially designed clips
Connection via cable with open end or cable with connector (for US/Canada)
Length: can be combined up to 100 m (80 m for US/Canada)
Warranty: 3 years (L70)
For more information, please contact
Stefan Oosthuizen (Africa Sales)
Contact: +27 (0)82 299 2280 | Email: stefan.oosthuizen@hella.com
Andrew Fuller (South Africa Sales)
Contact: +27 (0)64 850 8180 | Email: andrew.fuller@hella.com
Derick Helm (South Africa Sales)
Contact: +27 (0)82 519 5608 | Email: derick.helm@hella.com
To view more product information and to see the full HELLA Mining product portfolio, please click here.