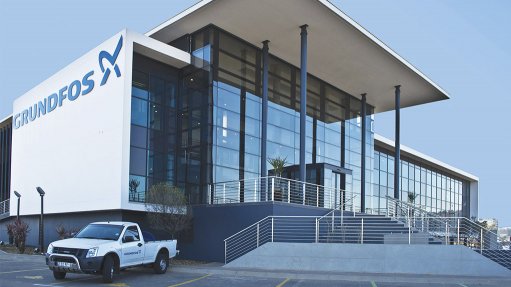 Grundfos has a proud history of operating in Sub Saharan Africa, with the first Grundfos branch opened in South Africa in 1992, employing only seven people. In 2005 Grundfos opened its own company in South Africa, servicing 43 countries, and now also has companies based in Ghana and Kenya with a supporting office in Nigeria, focussing on west and east Africa.
Warehouse
Headquartered in Johannesburg Grundfos South Africa, or GZA, currently has 127 employees and has a supporting sales office in Cape Town. In 2014, the Grundfos office and warehouse was the first industrial facility to receive a five-star Green Star rating from the Green Building Council of South Africa, recognised for its market-leading initiatives in water and energy conservation.
Testing facilities
The GZA warehouse stocks over 20 000 products and uses offers advanced technology to ensure efficient and fast local, cross border and international deliveries. Its world-class ISO-approved test bed facility ensures that every product built by GZA is subjected to an in-house Grade 3B ISO test, with the additional option of conducting customer witness testing.
Assembly line
Initiated in 2014, GZA's local assembly project has reduced lead times and complexity, improved staff competencies and skills development and increased locally-sourced components. Products are packaged in-house prior to shipping, ensuring the delivery of the highest quality Grundfos products.
Grundfos South Africa's local assembly line currently produces about 6000 pumps every year, including:
Full, CR/CRE Range of vertical stainless steel pumps
NK/NB single stage end suction pumps
Hydro booster systems, including Hydro multi S,B,E and MPC
Service and repairs
All original Grundfos products are backed by a two year warranty, with optional warranty enhancements. The Grundfos team of highly skilled service technicians provides after-sales service and repairs
Training Facilities
Grundfos also provides training at its state-of the-art facilities include a 'Sustainable Intelligence Hub', the first of its kind in Sub-Saharan Africa, offering innovative live demonstrations and product training using 3-D and virtual reality technology.