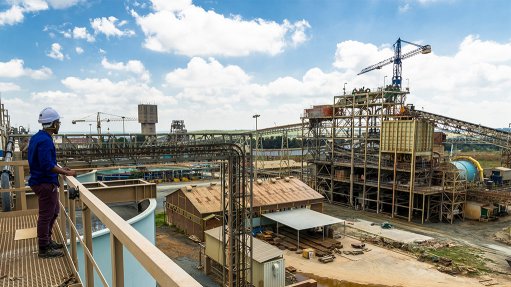 DRDGold will upgrade this Driefontein 2 plant as part of Phase 1.
JOHANNESBURG (miningweekly.com) – When it comes to the gold sector, recovering the precious metal from dumps on surface beats pursuing it in deep, dark and dangerous underground mines.
The local gold industry has put many feelers out to access gold on surface and one of the most exciting projects under way is Far West Gold Recoveries Project.
With this project, gold-from-surface mining company DRDGold and gold and platinum group metals mining company Sibanye-Stillwater have worked exceptionally well together to accelerate gold recovery using existing quality gold tailings retreatment infrastructure.
Johannesburg- and New York-listed DRDGold spoke on Wednesday of the new Far West Gold Recoveries Project potentially lifting its share into a growth stock.
DRDGold concluded its acquisition of the Far West Gold Recoveries assets from Sibanye-Stillwater on July 31, 2018.
In its integrated annual report for the year ended June 30, CEO Niël Pretorius points out that the improved performance in the DRDGold share price has resulted in a good balance being struck between an appropriate price for the asset and Sibanye-Gold's asking price.
The Johannesburg- and New York-listed Sibanye-Stillwater has an option to increase its stake in DRDGold from 38% to 50.1% as part of the transaction.
How big or small the inflow of capital might be should Sibanye-Stillwater opt for control "is entirely up to DRDGold shareholders, who ultimately determine the share price", Pretorius adds in a release to Mining Weekly Online.
DRDGold chairperson Geoffrey Campbell notes that the gold dumps are of a higher grade than DRDGold's existing dumps on the East Rand.
"Therefore we expect the operations to be more profitable than our existing operations," Campbell adds, which will make DRDGold more resilient to a lower gold price, "which is always a good thing".
The transaction also adds longevity to DRDGold's operations by increasing its reserves to six-million ounces over two phases.
Phase 1 development under way, for which a R300-million loan has been secured, involves upgrading of the Driefontein 2 plant to treat material from the Driefontein 5 slimes dam at a rate of 500 000 t a month from early next year.
Phase 2, which envisages a monthly production rate of 1.2-million tonnes, will begin within 24 months of the start of Phase 1 production.
Features of Phase 2, the feasibility of which will be tested over the next two years, are the construction of a large, centralised plant and an ultra-high volume deposition facility.
Campbell emphasises the potential of the project to be "hugely significant" for South Africa as a whole.
"With the right gold price and forward-looking government policies to support a fair and stable business environment to attract the necessary long-term capital, we could be looking at a much larger operation," he comments.
Campbell believes the investment for the substantial development will result in the creation of skilled job opportunities and training, tax payments, community development and extensive environmental clean-up, over and above the payment of dividends to shareholders for many years.
The first gold pour is scheduled for the first quarter of next year, Pretorius told investors, analysts and journalists at the company's presentation of 10% higher gold production to 150 000 oz in the 12 months to June 30 – as well as the generation of R93.4-million in free cash flow.
East Rand-based DRDGold has been engaged on the West Rand at relatively modest capital cost since August.
Reclamation from the Driefontein 3 and Driefontein 5 tailings dams, which are part of Phase 1, has a 12-year life.
Although the current focus is on assets the company has acquired, there are very many dumps in the area not owned by DRDGold.
Many of those are spectacularly rich dumps, taking in the Western Deep Levels and the Driefontein-Kloof belts.