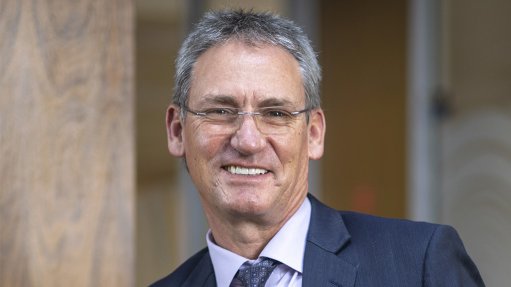 Chris Griffith will steer Vedanta Resources' Zinc International and Copper businesses.
Former Gold Fields CEO Chris Griffith has been appointed CEO of Vedanta Resources' Base Metals unit and president of its International Businesses, with effect from October 2.
He will lead the group's international zinc business in South Africa and Namibia; its iron-ore business in Liberia; and the entire copper portfolio including Konkola Copper Mines (KCM), in Zambia, Fujairah, in the United Arab Emirates, and Sterlite Copper, in India.
"We are delighted to welcome Chris to Vedanta as the CEO for Base Metals & president: International. His extensive experience in the mining industry and leadership record at Gold Fields, Anglo American Platinum and Kumba Iron Ore make him an invaluable addition to our team, especially as we embark on an exciting growth phase in our copper business with the return of KCM to our portfolio.
"Chris's growth mindset, along with a strong commitment to sustainability, aligns perfectly with Vedanta's core values," says Vedanta Group chairperson Anil Agarwal.
"I am excited to take on this new role at Vedanta, one of the world's most exciting and fast-growing mining and metals companies. I look forward to driving innovation, operational efficiency and sustainable growth across Vedanta's Base Metals businesses, creating KCM as a cornerstone asset for the company and growing the group internationally.
"Together, we will deliver value to all our stakeholders in different geographies," Griffith comments.