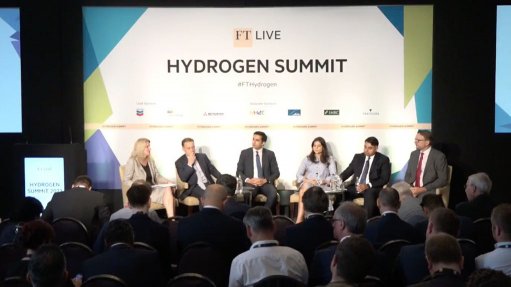 FT Hydrogen Summit panel discussion.
JOHANNESBURG (miningweekly.com) – Green hydrogen, when earlier identified as a necessary clean energy source to help the world achieve net-zero emissions in the coming decades, was higher up the cost curve than fossil fuels.
Now that has changed with this week's Financial Times Hydrogen Summit emphasising that green hydrogen's competitive price position, brought about by rising fossil fuel prices, is, if anything, on the way to being further entrenched.
Green hydrogen protagonists are pointing out that the system's very low input costs more than cancel out all its inefficiencies.
Envisaged is that renewables will create competitive hydrogen derivatives that can be transported, stored and used very competitively.
The system envisaged is that every time its renewable power prices drop to multi-hour low levels on low demand, excess power will be used to produce hydrogen and to store it, and every time prices rise on higher demand, it will justify the energy inefficiency of reconverting the hydrogen into power. Trading in that band would take care of electrolyser and fuel cell inefficiencies, which are in the meantime on their way to being considerably reduced.
This scenario was illustrated convincingly by TES CEO Marco Alverà, who is the former CEO of Snam, in conversation with Financial Times natural resources editor Neil Hume during this week's FT Hydrogen Summit, covered by Mining Weekly.
Alverà expressed the view that the European Union's ambitious target of having 20 million tonnes a year of available green hydrogen by 2030 – ten domestically and ten imported – is achievable.
"The sun is there, the steel is available, the engineering talent is available. We just need to put the dots on the i's and get these projects compressed and into execution mode," Alverà said, provided companies go forth with projects such as the one announced this week by bp.
bp is to lead and operate one of the world's largest renewables and green hydrogen energy hubs based in Western Australia.
"We need dozens of these big flagship projects," Alverà emphasised.
If such projects went ahead, then Europe's targets would not only be achievable, but they would set the trajectory for the rest of the world.
That would be so because the world would discover that green hydrogen could allay concerns about security of supply, inflation-hit high prices as well as globally visible climate change.
"We can address the three together by delivering some of these projects," said Alverà.
"Produce electrons, use these electrons to produce hydrogen, merge that hydrogen with CO2 to produce synthetic methane and then we have a completely renewable product that's based on electrons. It's cheaper, it's cleaner, it's safer. We can make it wherever we have sun, so it's a no-brainer. We just need to get out of the inertia of a business as usual mode and just get going with these projects," he added.
Later Fortescue executive chairperson Andrew Forrest told the conference that he was particularly excited about wind power owing to wind towers being engineered with 80% less steel, less concrete, and no moving parts in the generator. In addition, solar panels were being reimagined.
"It's a different world, it's a wonderful world, it's a world that's opened a door to a pollution-free world, perhaps not for us, but if we work hard, for our kids, and that's worth it," Forrest said.