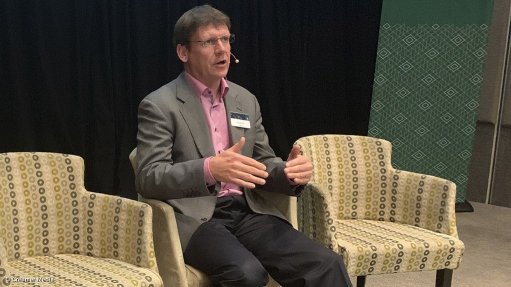 Dr David Hart, E4tech.
Photo by: Creamer Media
JOHANNESBURG (miningweekly.com) – Green hydrogen and fuel cells will be a very important part of any future energy system, says Switzerland-based energy and sustainability consultancy strategist Dr David Hart.
Among the electrolysers that convert renewable electricity into green hydrogen are proton exchange membrane (PEM) electrolysers, with PEM fuel cells then converting the green hydrogen back into green electricity for mobility and stationary power. Both technologies are reliant on platinum group metals (PGMs), which are sourced overwhelmingly from South Africa.
Hart, who was speaking to Engineering News & Mining Weekly in a Zoom interview, leads the green hydrogen and fuel cell work of E4tech, which is part of the 40-country, 160-office ERM Group of Companies. (Also watch attached Creamer Media video.)
Without large amounts of hydrogen, it is very hard to see how the world will meet any of its climate targets, says Hart.
"We will see companies which are facing almost an existential carbon problem make use of green hydrogen. The steel industry, for example, is one of those where we've already started to see green steelmaking come in – and green steelmaking means more direct electricity, but it also means more hydrogen in the mix," Hart points out.
The latest edition of The Economist reports that Europe is about to get its first new steel mill in nearly half a century in Boden, a Swedish town near the Arctic Circle, where steelmaking start-up H2 Green Steel is on the way to employing 1 800 people in its new mill that will use green hydrogen produced on site by the region's abundant wind and hydropower endowment.
"The project matters far beyond the sparsely populated northern Sweden. The consequences could be momentous for the continent's producers of steel and other basic materials, such as cement and chemicals," the London publication adds.
Hart includes Africa in the other parts of the world where it makes probable sense to go to green hydrogen very early on.
SOUTH KOREA'S LEGAL FRAMEWORK
By putting green hydrogen into a legal framework, South Korea is the country furthest advanced legislatively, with the East Asian nation also deploying an increasing number of hydrogen-powered mobile and stationary electricity-generating fuel cells.
"In general, governments are approaching the hydrogen economy in different ways, and if one talks to the corporations and others in the industry, there is still a bit of grumbling about the sufficiency of the type of regulation that is being put in place – and that's because regulation has typically been designed for a legacy energy system, which doesn't always fit exactly with a world which is much more about renewable electricity, intermittency, the need for other types of storage, and the need for hydrogen not only for energy, but also for chemicals and for other types of support.
"So, there's still work to do in allowing the regulatory frameworks to operate in the best way to support green hydrogen and to support fuel cells, but there's definitely a lot of progress and a lot of interest," says Hart.
Regarding the extent to which global corporations are positioning themselves to best effect in the development of green hydrogen and fuel cell technology, Hart sees a mix of traditional energy companies figuring out how green hydrogen and fuel cells fit into their supply chain, and prominent component manufacturers and start-ups engaging strongly in electrolyser and fuel cell development.
There are automotive companies that are looking very hard at becoming electrolyser component producers, rather than producing only internal combustion engines (ICEs) or components for ICEs.
Geopolitical circumstances and net-zero requirements are boosting demand, along with insurance advisers and board members pointing out the need to include green hydrogen and fuel cells to meet net-zero commitments.
Regarding renewables, he says: "The nice thing that we have seen in the past is that all of the forecasts about the rollout of renewables have been wrong and they've been wrong in the right direction.
"They've said we will only have x megawatts and we've ended up with x times five megawatts, and that's gone into gigawatts and is ramping very effectively, so there's a fast ramp rate that can be achieved, but we're right on the cusp of that at the moment because we have not got megaprojects deployed.
"We have not got manufacturing that can churn out electrolysers and fuel cells, and it will be clear probably in the next two or three years, whether we can really enable those industries to make a difference.
"It will come fast, but whether it's fast enough, will depend also on what happens with climate science," he adds.
"There's also a strong interest from those companies embedded in the energy industry, which could be big mining companies that have a huge requirement at the moment, for example, for diesel," says Hart.
"If the price of diesel goes up dramatically, then they have to do a lot of hedging. They have to completely rebalance their future finances and something which is nice about hydrogen is that potentially is much more stable.
"You know what the price of renewables is going to be, you know what the cost of hydrogen coming out is going to be, so even if it's a little bit higher, if it's stable, it's quite easy to work with, and something we're seeing more and more is that big users want stability.
"There are other sustainable fuels but clearly green hydrogen and fuel cells are a very important part of any future energy system," Hart emphasises.
Mining Weekly: Based on current projections of demand for green hydrogen and fuel cells, what volumes of platinum, iridium and other PGMs will be required along those supply chains?
Hart: Platinum goes into certain types of electrolysers and into certain types of fuel cells, the PEM fuel cells in particular and the PEM electrolysers. Iridium, likewise, goes into the PEM electrolysers, and there's a fairly large amount of platinum and iridium that is required per electrolyser at the moment, in the order of, I think, point three grams per kilowatt of platinum and point seven grams per kilowatt of iridium, that's off the top of my head and may or may not be exactly right. If you just multiply that out by the gigawatts of projections, then there's a significant amount of PGMs that will be required. There is a big discussion going on about the amount of iridium that is available, and the amount that is going to be required in an optimised PEM electrolyser system and the sort of consensus view is iridium can be reduced by 90%, so we would need about a tenth of the amount of iridium that we do now, which makes it feasible to see large scale rollout.
How many jobs can be created globally in your view through the introduction of the hydrogen economy?
The jobs question is always tricky because very often it's displacing jobs from one industry into another. We are seeing that the renewables industry generally is creating a good number of jobs, which are people who can make a transition from for example the traditional fossil energy industry, because some of the skills are transferable - certainly building big infrastructure like offshore oil rigs and offshore wind farms is very similar, and there is a lot of installation required for things like photovoltaics. The reason I mention renewables is because hydrogen works with renewables. In some places it makes renewables more economic, because you can then store electricity that you would otherwise not be able to feed into the grid or not be able to use at the right moment, so it can contribute to the rollout of renewables. Hydrogen technologies cross all sorts of different industries. The automotive industry, for example, there are lots of transferable skills there in high speed manufacturing and quality control in making fuel cells but also in making electrolysers. In some countries you will see job creation, in some countries you will see job shift. My view is that the total number of jobs will be in the hundreds of thousands in the near term.
Getting on to the question of competitiveness of green hydrogen and fuel cells. Is it still lagging badly when competing against conventional fossil fuel energy?
It's lagging but not badly, and I think the difficulty, here again, is that we don't have the gigawatt projects yet on stream, and so we don't really know exactly what the cost is. We've got lots of analyses and very interesting projections. The IEA has just released its latest update and review for the year and the numbers for fossil fuels. If you include carbon capture and sequestration, which you almost certainly will have to, it is in the $1/kg to $3/kg. The numbers for renewables are in the $2/kg to $5/kg, but I think in some places, they will be down at the $2/kg and the fossil fuels will be up at the $4/kg. In other places which have very low cost fossil fuels, they will take a while to be competitive. But the trend is very strongly in the right direction and the competitiveness is being seen as achievable and something that has to be achieved.
Which countries are showing the best momentum and the best leadership that others can emulate in the field of green hydrogen and fuel cells?
South Korea is very strongly enabling in this area, which is partly because it has a strong industrial desire to be very good at fuel cells, but also because it's an energy importer, and energy security is important and diversification away from fossil fuels is important. There are countries like the Netherlands, which maybe doesn't come up as often as it should, but which has very strong supporters of the hydrogen economy within its industrial base, such as Shell, and is building quite significant infrastructure around hydrogen production and hydrogen use and conversion to ammonia. Germany has a very strong set of plans in place and very detailed targets, very detailed financing, and they're talking about not only producing hydrogen in Germany and offshore using wind, but also importing it. On the export side, there's a lot of push from the Middle East. Saudi Arabia has been really quite active, and very keen to see how it can position itself in a future hydrogen world and not just in an oil world. Australia has quite a lot going for it, again on the production side, but also one or two of the big companies. Fortescue, the big metals mining corporation, is very interested in diversifying around hydrogen and seeing how it can bring down emissions but also how it may also profit from the supply chain, and then also parts of Latin America. It's very mixed.
Are there any other important points that need to be communicated at this stage in the world of greening?
There are probably three things. The Russia/Ukraine situation has made an enormous impact on how people view energy security, how people view fossil fuels, the need to transition away from what we have now, not only from a climate perspective, but also from a volatility and energy security perspective. That is still playing out, but will have a very positive impact on hydrogen. There's the importance of making sure that we don't get in the way of hydrogen, and enabling trade. Hydrogen is not really traded globally. It's traded across certain countries. Within the European Union, it's very easy, but shipping hydrogen as an energy carrier from, for example, Latin America to Europe is not something that's really been done and at the moment, I think it would depend on the form that it took, so hydrogen is being shipped as ammonia where there is a very clear, existing infrastructure and regulatory framework. Is it being transported as something else? What does that mean in terms of taxation and excise duties? At the moment, I don't think that's a problem. But we need to make sure that it remains so. The final thing I'd say is hydrogen is incredibly important, but energy efficiency is always going to be the best way to start because you reduce the amount of energy you need. That way, it's much easier to meet your targets, whether that's with hydrogen or with renewables and batteries, or with heat pumps or with whatever it is. We need to make sure that we're starting at the right end of the pipe and doing all we can to improve the situation before we have to move to development of large-scale infrastructure, which always takes time.