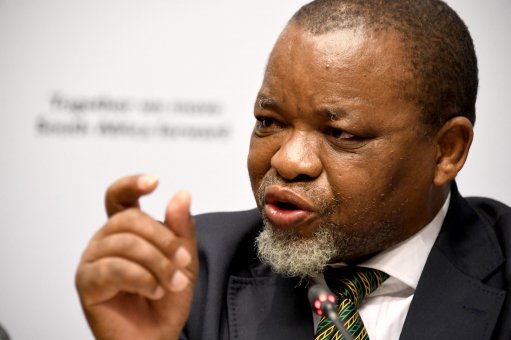 Mineral Resources and Energy Minister Gwede Mantashe
There are a myriad of opportunities that the mining industry can capitalise on, and the Covid-19 pandemic has provided a major catalyst for the collaboration required to unlock it, speakers said during a mining-focused session at the South African Investment Conference on November 17.
Hydrogen and the green economy, and exploration, specifically, have been identified as providing the biggest opportunities for the country's mining industry.
Speakers emphasised that collaboration would play a key role in unlocking these opportunities and noted that the pandemic had shown that industry role-players can successfully work together.
Minerals Council South Africa CEO Roger Baxter said that, by collaborating, the mining industry was able to manage the pandemic and save lives, while also ensuring that the majority of the mining workforce got back to work safety, which is a demonstration of successful engagement between all industry stakeholders.
He further noted that the pandemic had acted as an important catalyst of the critical need for industry to work with government.
This, he said, engendered a greater shared vision between the industry and government of growing mining to contribute above 10% of gross domestic product; and of enhancing greenfield exploration, with the aim of capturing a minimum of a 5% share of global exploration spend.
Considering that South Africa only accounts for about 1% of the global exploration share, Baxter said this would require considerable investment and effort; however, he said he was hopeful that the country could achieve between 3% and 5%.
He acclaimed that the council views South Africa as having large geological potential, which presents opportunities for junior and emerging miners – a segment of the industry that is relatively underdeveloped in the country compared with its mining peers, such as Canada.
Mineral Resources and Energy Minister Gwede Mantashe commented that the department had deliberately decided to invest in a geoscience mapping programme through the Council for Geoscience (CGS), which would likely boost investor interest owing to the availability of more reliable geoscience data.
Moreover, the industry has already started actioning the interventions in the recovery plan, he said. For example, the department, CGS and industry captains were working on drafting the country's exploration strategy, which would serve as the roadmap for its exploration programme.
Anglo American Platinum (Amplats) CEO Natascha Viljoen, meanwhile, emphasised that, in terms of the country's just energy transition, there were opportunities in batteries and hydrogen. She noted that platinum group metals (PGMs), specifically platinum, played an important role in this, with 70% of the world's PGM resources in South Africa.
She noted that this presented a big opportunity to be further developed in South Africa, especially in terms of green mobility.
Moreover, she mentioned opportunities in terms of technology development that would be required for generating, transmitting and storing this energy.
She further noted that Amplats was contributing to the development of the broader hydrogen industry through the development of a fuel cell dump truck with other stakeholders.
Mantashe stressed that, for South Africa to successfully build a green hydrogen industry, government and the private sector would have to work together and view the industry as a necessary economic value-addition.
Viljoen pointed out that the country was working on a hydrogen society roadmap, while government and industry were also working on the development of a hydrogen corridor that seeks to enable heavy duty fuel cell vehicle applications, running from Durban to Gauteng and Limpopo, to address transportation challenges, with links to trucks, air freight and rail.
Bushveld Minerals CEO Fortune Mojapelo also saw great opportunity for South Africa to participate in the battery metals value chain, given its endowment of metals, such as vanadium, nickel and PGMs.
He said the real question was how the country could capture this opportunity.
He emphasised that it was not only about increasing battery metals supply, but also about growing the bigger value chain.
Mojapelo stressed that the energy transition had to be used to benefit from both a supply and resource point of view, as well as the value chain point of view.
In terms of enablers for this sector, firstly, there is the requisite resource base, which the country has, across the various battery metals, Mojapelo explained.
Secondly, there is primary processing infrastructure. He emphasised that this was typically a large capital investment and, therefore, the country must not take for granted that it had this already.
Thirdly, there was expertise, which Mojapelo acclaimed the country also had.
Fourthly, there was the required market, which was critical for building critical mass needed in this space, he said.
Mojapelo indicated that these four enablers could, together with a conducive policy environment, help South Africa's mining sector take advantage of the battery metals opportunity.