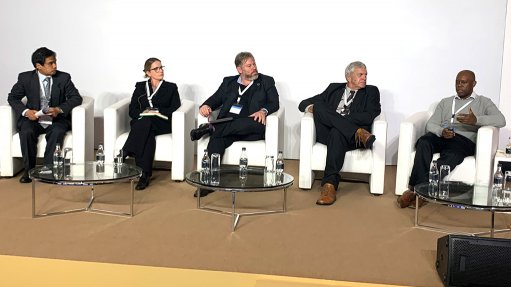 McCloskey's Southern African Coal Conference panel from left moderator Randy Fabi, Tracey Davies, Steve Nicholls, Jan Oberholzer and David Kawesha.
Photo by: Creamer Media
CAPE TOWN (miningweekly.com) – The generation of green hydrogen is achievable in South Africa immediately and does not involve a complicated process, Sasol just transition office head David Kawesha said on Friday.
"You just need the renewable energy resource, electrolysers to split water, and that's really what the basic process is," Kawesha said during a panel discussion at McCloskey's Southern African Coal Conference in which Presidential Committee on Climate Change member Steve Nicholls, Eskom COO Jan Oberholzer, Just Share CEO Tracey Davies and Ascon decarbonisation and green innovation director Nate Macmillan also took part.
"You use a significant amount of electricity to produce the green hydrogen. At the moment you're talking about $5 to $8 per kilogram to produce the green hydrogen. For it to be competitive, you need to get down to around $1 to $2 per kilogram," said Kawesha, who spoke of the landscape changing beyond 2030 through many and varied technologies and the green hydrogen cost curves declining.
"Not only South Africa, but a number of countries globally are all developing hydrogen road maps to see how best they can be competitive. All of them are looking to target the market.
"From Sasol's perspective, where we believe we have an advantage is that we incorporate the green hydrogen into our power-to-liquid-type processes and also derivatives such as green ammonia or green methanol, which you then can target into particularly the European market.
"That's why we are also looking at developing the Boegoebaai project to see how we can help South Africa take advantage of being a key green hydrogen producer in the region and globally, if possible," said Kawesha.
Sasol is already one of the largest producers of grey hydrogen globally, at a production level of 2.6-million tons.
"So, integrating green hydrogen into our value chain is fairly straightforward and a key advantage for us, and introducing sustainable carbon sources then allows us to produce sustainable fuels and chemicals that can be classified as green and placed into the market competitively," Kawesha told the conference covered by Mining Weekly.
Questioned by McCloskey's deputy markets editor Randy Fabi on societal impacts, Davies said the concept of the just transition was focused on people and achieving a low-carbon energy system that also tackled poverty and inequality.
Davies described the societal impacts as being huge and what perplexed her about the professed concern about the coal mining communities as South Africa journeyed through this transition was the complete failure to mention what those communities had already suffered for decades and were still suffering.
"We talk about the devastating impacts of the closure of coal mines and power stations on the communities that rely on them…but what we don't talk about are the decades of water pollution, destruction of arable land, failure to properly rehabilitate mines, the effect of blasting on community homes, and the air pollution.
"The air pollution is a devastating impact and the Pretoria High Court recently found that the air quality levels in Mpumalanga, predominantly due to toxic pollutants from Eskom and Sasol, are a breach of our fundamental human right to an environment that is not harmful to health and well-being," said Davies.
"It's all very well to focus on maintaining these jobs and keeping coal going and replacing coal with clean coal, but in actual fact what's already happening in those communities is devastating and the idea of a just transition is to try to alleviate that.
"In addition, we focus very myopically in South Africa on Mpumalanga and the coal-mine and coal-producing areas, but what we never speak about is the human and societal impacts if we don't take action to tackle climate change.
"The people of KwaZulu-Natal will tell you that those impacts can be pretty devasting and so I do find it quite concerning that we're not focusing enough on the historical and current liabilities of coal from a human and an environmental point of view and also that the mooted solutions to that are not actually going to change any of those," she said.
"The clean coal, when it refers to pollution abatement technology, in other words, taking the toxic pollutants out of the air, is incredibly expensive. Both Eskom and Sasol have spent the past ten years applying to the government for postponements of compliance with the law on air pollution.
"If you're talking about greenhouse gas emissions, building clean coal power stations reduces that in a very tiny way but also has massive capital cost impact. So, clean coal technologies are going to make power generation much more expensive than it already is, and we're all acknowledging the fact that it's completely unaffordable," added Davies.
Nicholls said that in order to get to a net zero energy mix, South Africa would have to close out on the use of coal between 2040 and 2050, 2050 being the latest date.
"There's some debate about the role of gas as a peaking technology in that mix, but the key and overriding message across all of these studies is a massive investment and rollout of renewable energy and storage," added Nicholls.
Oberholzer said that Eskom was committed to transitioning to clean energy as part of its 2035 strategy, which would involve shutting down nine of its old coal-fired power stations in the next 13 years and the remaining six coal-fired power stations after 2035.
These would be the relatively cheap-to-run Medupi and Kusile stations and also Matimba, Kendal, Majuba and Lethabo, contributing 22 GW.
Additional capacity thus had to be brought on as soon as possible, "and we have to do it in a responsible and clean way", Oberholzer said, which was why Eskom had recently established a clean energy unit, the recruitment of the head of which was scheduled to begin next week.
This unit would be tasked with rolling out the clean energy projects that would include more wind, to add to an existing Eskom wind farm, solar power and both battery and pumped storage, along with small modular nuclear reactors.
"In a nutshell, what is critical when we repurpose these power stations is to have a very good understanding of the social impact currently and what impact the shutdown of the old power stations will have in the future.
"The focus is to see how we can contribute still to the communities while we repurpose these old power stations, where job opportunities can be created. We need to find the answers collectively with all the shareholders and stakeholders moving forward," said Oberholzer.
The ten-unit Komati power station would be the first old power station to be closed and the 140 MW it generates would cease in September. Sixty megawatts of solar and 140 MW of battery storage were now being planned for the repurposed Komati.
A number of projects would commence, Oberholzer said, once the $8.5-billion just transition funding was made available.
Planned was also the development of 8 000 km of power transmission infrastructure and monthly cash flows had already been realised for Eskom's projects of the future.