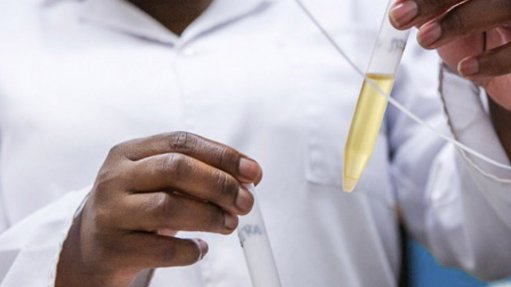 INTEREST GROWING There has been a substantial interest in air quality testing as there have been numerous high-profile issues that have developed around South Africa
Local environmental laboratory X-Lab Earth Science plans to expand its support for air-quality testing companies servicing the mining and minerals industry as demand grows for accredited data analysis in this sector.
X-Lab MD Quentin Hurt highlights that its ISO 17025-accredited laboratory in Randburg, which has been operating as X-Lab since last year, has a strong focus on air-quality testing support. "We have a history of testing air quality and air testing is not well serviced in South Africa, so it is a specialisation that the laboratory developed."
Therefore, the company has undertaken many equipment upgrades and has confirmed that its equipment is working effectively to accurately test the air quality of various companies. By analysing data from tests, X-Lab can verify whether companies comply with Southern Africa's air-quality regulations.
Hurt attributes the increasing demand for air-quality testing services to pressure from communities, companies' commitment to environmental compliance and changes to legislation regarding waste streams and their disposal.
"Interest in air-quality testing has been driven by high-profile cases across the country. In Durban, for instance, odours perceived to emanate from a landfill have spurred unprecedented community complaints. These situations create public awareness about air pollution and how it affects communities."
He explains that the level of concentration of various harmful substances being tested for by X-Lab is also increasingly becoming lower, noting that as people are becoming more aware of environmental issues and the impact of toxins on their health, they focus more on environmental protection.
"Owing to our improving understanding of the impact of small amounts of toxins in air, water or earth, X-Lab must update its technologies to detect these low concentrations," Hurt tells Mining Weekly.
The company regularly measures for the presence of parts-per-billion-level concentrations of hydrocarbons, primarily for the petroleum industry and refineries, but also near operations such as landfills and in water.
"We intend to grow our services for our diverse group of customers. X-Lab recently installed a thermal desorption unit at our laboratory that allows for the automated measurement of trace hydrocarbon pollutants in air samples. This technique can [also] be used in the mining industry for contaminated water and soil," says Hurt.
He emphasises the importance of testing water quality in the mining industry, citing that it is critical for companies to know what people are being exposed to, owing to the potential for mining-induced water contamination, which can affect surrounding communities and the environment.
Besides air, water and soil analysis, and waste characterisation, X-Lab also tests for cyanide and heavy metals, claiming to be the only South African laboratory currently accredited for the full range of environmental cyanide analysis.
South African monitoring company Skyside launched X-Lab in October of last year after acquiring global inspection, verification, testing and certification company SGS's environmental division's laboratory.
Following a strategic review of its environment, health and safety operations in South Africa, owing to the oil, gas and mining downturn, SGS announced that it had decided to divest its stack emission and environmental laboratory activity in Randburg, Johannesburg.
"The SGS group will service the South African market from its European laboratory network. However, SGS will continue to offer dust monitoring as part of its South African portfolio of services, mainly out of Durban," SGS explains in a statement.
"When SGS announced its intention to rationalise its local services, we took the view that, without access to the [high- quality] of data and service that we had received from this facility, Skyside would have had to consider exporting our samples to match this requirement," says Hurt, emphasising that there are few laboratories with the scale and equipment of the new X-Lab laboratory.
He states that the only problems the company experienced after taking over SGS's facility was changing the quality assurance system to meet its own internal management requirements.
"SGS follows its own global standard, whereas our standards are locally developed to meet South African industry requirements. It was a major effort for us to integrate technical systems in the existing laboratory with our existing, accredited management system," says Hurt.
X-Lab uses an information technology system that is designed to reduce sample turnaround time and present data in a format that suits customers' specific needs.
It can also present data in a proprietary, Web-based, geographic information system that enables customers to track historical trends on individual boreholes, sample points or air testing sites.
There are very few tests X-Lab is unable to perform in South Africa, requiring samples to be sent to Europe.
"Compounds like dioxins may be extremely toxic in parts-per-trillion concentrations and the specific instrumentation that is required to detect dioxins is very expensive and requires high volumes of samples," Hurt says. However, X-Lab tries to avoid sending samples overseas, as they degrade and change when they are transported, influencing the accuracy of results.
There are various laboratories in South Africa that offer the same services as X-Lab, but "what sets us apart is that we are able to supply a range of tests at one facility", concludes Hurt.