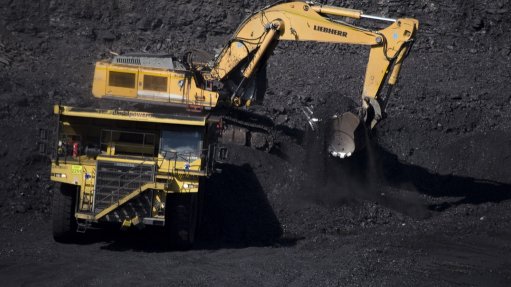 STEADY AS SHE GOES Government's efforts to develop Botswana's coal mining sector are also expected to yield steady progress
Botswana's mining industry will see steady value growth as government continues its efforts to diversify away from the diamond sector, encouraging foreign investment, particularly in coal projects, says industry analyst BMI Research, a Fitch Group company.
The sheer size of Botswana's diamond sector, will, however, ensure that the precious gems outshine coal in terms of value for the foreseeable future, adds BMI.
According to the Bank of Botswana, the country's diamond export value nearly quadrupled to $341-million in October 2016, compared with the same period in the previous year.
"In comparison, we estimate that the coal mining sector totalled $116-million [in] 2016."
Yet, BMI predicts that growth in Botswana's diamond production will remain muted over the coming years because of depleted deposits and deterred greenfield investment, owing to subdued diamond prices.
As an example, BMI notes that, in February, global diamond company Gem Diamonds announced plans to place the Ghaghoo diamond mine – located in the central Kalahari Game Reserve, in Botswana – on care and maintenance, owing to poor market conditions.
Gem Diamonds cited the decline in the prices of its diamonds from $210/ct in early 2015 to $142/ct by December 2016.
"We forecast the country's output to edge higher, from 15.1-million carats in 2017 to 16.3-million carats by 2021. While this implies a modest recovery, averaging 1.7% annual growth over 2017 to 2021, compared with an average annual contraction of 6% over the previous five-year period, Botswana's diamond output will not return to the levels of over 30-million carats in the early 2000s."
Diamond producer Debswana, a joint venture (JV) between the government of Botswana and diamond mining major De Beers, will remain the dominant force in the country's diamond mining sector, having shifted its administrative centre from London to Gaborone in 2013.
"Debswana is the world's fourth-largest diamond producer and is responsible for about 90% of the country's total output."
However, a tough business environment is taking its toll, with Debswana producing 20.5-million carats in 2016, compared with 24.2-million carats produced in 2014.

While this level is in line with 2015 production, De Beers reported a 14.6% year-on-year decline in prices to $152/ct in 2016.
In January 2016, Debswana suspended its Damtshaa mine's operations, owing to weak market conditions and plans to further scale down yearly production from its Orapa No 1 mine to about one-million carats over the next three years.
In December 2016, Debswana and mining company Majwe Mining also extended their JV agreement to 2018, after the project – initially expected to be completed last year – faced continual delays owing to poor market conditions.
De Beers has stated that it is looking for new diamond reserves outside Botswana; however, Debswana is unlikely to lose much market share to its rivals ''for now''.
These include UK-listed Gem Diamonds, which opened Botswana's first underground mine, Ghaghoo, in 2014, but which is now on care and maintenance, and Canada-based diamond producer Lucara Diamond, which is reportedly planning to invest between $15-million and $18-million in an additional large diamond recovery process at its Karowe mine.
"Debswana remains very much the leading player in Botswana's mining sector and continues to drive production and exploration activity . . . There are relatively few competitors on a large scale and the majority of companies operating in the sector can be considered as juniors."
Despite volatile market conditions, BMI further mentions that Botswana's sizeable undeveloped deposits and supportive investment climate will result in it remaining an attractive proposition for global diamond miners.
For example, in April 2016, UK-listed exploration company Botswana Diamonds began drilling at its prospecting licence (PL) 260 and PL210 at the Orapa project, located in the town of Orapa, in the Boteti subdistrict – about 240 km west of the city of Francistown.
The company secured exploration rights in April 2015 as part of a JV with Russian diamond company Alrosa, the world's largest diamond miner in terms of output. Botswana Diamonds is expected to undertake heavy concentrate sampling to assess kimberlite indicator minerals and their proximity to potential primary sources, as well as drilling on AN210-1 at PL210.
Support for Coal
The competitive advantage of Botswana's diamond mining sector, BMI adds, will be further boosted by significant investment in the country's power supply infrastructure over the coming years, as government has committed funding to counter electricity shortages.
In the short term, BMI notes that the country plans to boost its electricity supply by importing more power from Mozambique's Cahora Bassa hydroelectric station, in Tete, Mozambique, and developing its own independent power generation sector on the back of rapid growth in coal production.
"Future coal-fired plants will be fuelled by production from the Mmamabula coalfield, in south-eastern Botswana."
Government's efforts to develop Botswana's coal mining sector are also expected to yield steady progress, says BMI, owing to the low operating costs required to run mines, a solid project pipeline of integrated power plants and mines and the rising domestic demand for coal.
Diversification Deterrents
Nonetheless, BMI notes that government's coal initiatives, in the context of reducing the country's dependence on the diamond sector, will face headwinds because of subdued coal prices and the outsized value of the diamond sector.
"Botswana's mining industry value will increasingly be driven by a government-led ramp-up in coal production over the coming years," BMI adds.
It forecasts that the country's coal output will increase from 2.3-million tons in 2017 to 3.8-million tons by 2021, with the sector's share of total mining industry value growing from an estimated 2.6% in 2012 to 6.9% by 2021.
While Botswana's coal production growth rate will stand out in a global environment of subdued prices and carbon-conscious initiatives, BMI notes that the sector will only barely alleviate the country's dependence on the diamond mining sector.
"The poor outlook for coal prices has a downside risk to Botswana's project development. We forecast thermal coal prices to average $70/t in 2017 and $67/t in 2018."