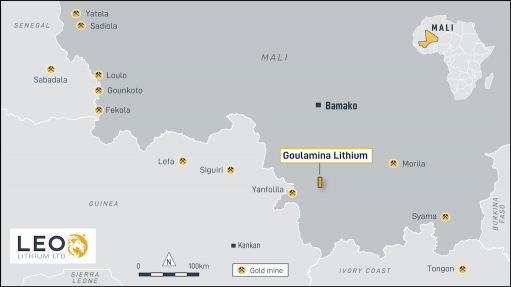 Photo by: Leo Lithium
Name of the Project
Goulamina lithium project.

Location
Southern Mali, about 50 km west of Bougouni.

Project Owner/s
Firefinch subsidiary Leo Lithium and Chinese partner Jiangxi Ganfeng Lithium.

Project Description
An update to the October 2020 definitive feasibility study (DFS) in December 2021 has confirmed the project as one of the world's biggest lithium developments.

Stage 1 spodumene concentrate production is estimated at 506 000 t/y, increasing to a peak of 880 000 t/y in Stage 2. The DFS envisages a standard openpit mining operation.

The flowsheet will comprise:
three-stage crushing to a P80 of 6.2 mm, with a fine-ore bin and overflow dead stockpile;
closed-circuit ball milling and screening to an estimated P80 of 180 µm, based on a closing screen P100 of 212 µm;
two-stage magnetic separation;
three-stage flotation (roughing, cleaning and recleaning);
concentrate dewatering, filtration and storage;
separate flotation and process tailings thickening, with common tailings pumped to a tailings storage facility;
reagent mixing and distribution;
separate flotation and process water circuits; and
air services.
The DFS update proposes the construction of a 2.3-million-tonne-a-year throughput plant, incorporating in the design the infrastructure and equipment for the construction of a Stage 2 expansion to increase plant throughput to four-million tonnes a year.

The project is expected to have a minimum mine life of 23 years, producing 15.6-million tonnes of spodumene concentrate over that period.

Potential Job Creation
Not stated.

Net Present Value/Internal Rate of Return
The project has a pretax net present value, at an 8% discount rate, of $4-billion and an internal rate of return (real) of 97.8%.

Capital Expenditure
Leo Lithium has flagged a $30-million capital cost increase.

The company told shareholders in April 2023 that detailed engineering of the Stage 1 development, along with design optimisation, additional scope and industry-wide inflationary pressures, had resulted in the cost increase. The capital cost estimate of the project is now $285-million.

Leo Lithium DM Simon Hay has said that, after conducting a thorough review of the project's capital costs, expected capital increases were identified, owing to market conditions and an accelerated mining ramp-up. These include optimising the Stage 1 plant design to enhance the plant's performance, making necessary scope changes for Stage 2 and responding to industry-wide inflationary pressures.

In addition, as construction activities increase, the company has costed new plans associated with the operational readiness phase, which is focused on workforce readiness, the ramp-up of mining activities and the start of plant commissioning activities to produce first spodumene. This phase is now expected to cost an additional $33-million and is driven by a more comprehensive costed plan for commissioning spodumene production.

When combined with the revised cost to complete of $285million, the total project capital from the final investment decision to first production in the second quarter of 2024 is expected to be $318-million.

Planned Start/End Date
Firefinch expects to complete construction in early 2024 and commissioning in about mid-2024, with full production expected in 2025.

Latest Developments
Leo Lithium has struck a A$106-million shareholding and cooperation agreement with Chinese lithium giant Ganfeng Lithium.
Under the terms of the agreement, Ganfeng will take a 9.9% shareholding in Leo Lithium, subscribing for 131-million shares in the company at 81c each. The placement is subject to regulatory approvals in China and the execution of a cooperation agreement.
The agreement will result in the two companies' working towards expanding Leo Lithium's Goulamina project to produce up to one-million tonnes a year of spodumene concentrate, adding 500 000 t/y to the Stage 1 operation, and examine opportunities to accelerate the timing of the Stage 2 development.
It will also result in Leo Lithium's conducting a feasibility study on a joint downstream conversion facility in Europe or another region within reasonable distance from West Africa, with the two parties to jointly fund the study.
With the enlarged Goulamina Stage 2 capacity and the potential for a downstream conversion facility, the two companies will also clarify and vary an existing offtake agreement with regard to the Stage 2 product.
Ganfeng will have offtake rights to 350 000 t/y of the additional Stage 2 production over the life-of-mine, with Leo to have offtake rights over the remaining 150 000 t/y.
Ganfeng will process 150 000 t/y of its offtake in China on a permanent basis, with the remaining product to be processed in China until a downstream conversion facility with Leo Lithium is established.
Leo's assigned product will be tolled in China by Ganfeng until the downstream conversion facility is available to process product.
Should there not be agreement on a downstream conversion facility within five years from the date of this agreement, then Leo Lithium is free to deal with its 150 000 t/y offtake from Goulamina Stage 2 as it sees fit.
Additionally, subject to the ore reserve estimate for Goulamina being sufficiently upgraded in the third quarter of this year, the two companies will also investigate the possibility of adding a Stage 3 expansion to the mine, with the offtake to be divided equally, while the two companies will also jointly fund exploration in Australia.
"The strategic placement and terms of the proposed cooperation agreement with Ganfeng represent a transformational opportunity for Leo Lithium, and provide further validation of the tier-1 quality of Goulamina, including the significant potential upside of our development pathway," Leo Lithium MD Simon Hay has said.
The cooperation agreement will deliver a range of key strategic benefits to Leo Lithium, including a commitment to expand the capacity at Goulamina Stage 2, as well as a framework for further cooperation on a downstream conversion facility and other business opportunities.
Key Contracts, Suppliers and Consultants
Lycopodium (updated DFS, and engineering, procurement and associated project management services contract).

Contact Details for Project Information
Firefinch, tel +61 8 6149 6100 or email info@firefinchltd.com.