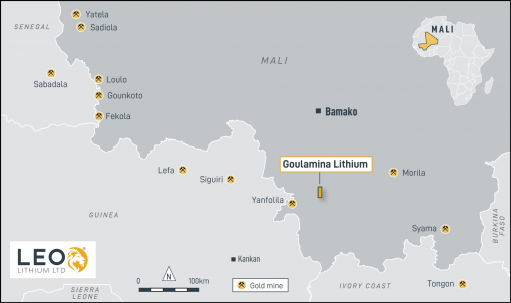 Photo by: Lio Lithium
Name of the Project
Goulamina lithium project.

Location
Southern Mali, about 50 km west of Bougouni.

Project Owner/s
Firefinch subsidiary Leo Lithium and Chinese partner Jiangxi Ganfeng Lithium.

Project Description
An update to the October 2020 definitive feasibility study (DFS) in December 2021 has confirmed the project as one of the world's biggest lithium developments.

Stage 1 spodumene concentrate production is estimated at 506 000 t/y, increasing to a peak of 880 000 t/y in Stage 2. The DFS envisages a standard openpit mining operation.

The flowsheet will comprise:
three-stage crushing to a P80 of 6.2 mm, with a fine-ore bin and overflow dead stockpile;
closed-circuit ball milling and screening to an estimated P80 of 180 µm, based on a closing screen P100 of 212 µm;
two-stage magnetic separation;
three-stage flotation (roughing, cleaning and recleaning);
concentrate dewatering, filtration and storage;
separate flotation and process tailings thickening, with common tailings pumped to a tailings storage facility;
reagent mixing and distribution;
separate flotation and process water circuits; and
air services.
The DFS update proposes the construction of a 2.3-million-tonne-a-year throughput plant, incorporating in the design the infrastructure and equipment for the construction of a Stage 2 expansion to increase plant throughput to four-million tonnes a year.

The project is expected to have a minimum mine life of 23 years, producing 15.6-million tonnes of spodumene concentrate over that period.

Potential Job Creation
Not stated.

Net Present Value/Internal Rate of Return
The project has a pretax net present value, at an 8% discount rate, of $4-billion and an internal rate of return (real) of 97.8%.

Capital Expenditure
Stage 1 will cost about $255-million and Stage 2 $70-million.

A formal investment decision on Goulamina was taken in March in 2022.

Planned Start/End Date
Firefinch expects to complete construction in early 2024 and commissioning in about mid-2024, with full production expected in 2025.

Latest Developments
Leo Lithium and Ganfeng Lithium Group have struck a £2.5-million deal to acquire two mineral concessions, in Mali, from Bambara Resources and Kodal Minerals.
The concessions, located south and east of the Goulamina project, will increase the project's land area from 101 km2 to 287 km2.
The project has a 23-year mine life and this is likely to increase, owing to the very large increase in the Danaya resource announced in January. This increased land holding will enable Leo and Ganfeng to optimise the location of infrastructure and mining stockpiles over the long term, which will be especially useful for the project's Stage 2 expansion, Leo Lithium MD Simon Hay has said.
The companies' initial plans for the concessions are to sterilise drill areas needed for near-term infrastructure and stockpiling, and then to develop an exploration programme for the remaining area, to be implemented in future years. The concessions have had scant exploration to date and the Goulamina area has been shown to be very prospective for lithium mineralisation.
In addition to the £2.5-million being paid to the vendors, Leo and Ganfeng will also pay a 2% gross royalty.
In the event of an economic mineral discovery on the area of the concessions, and that discovery being supported by a bankable feasibility study, then on the granting of a mineral exploitation licence over that area, the vendors have the right to be issued an equity-carried interest level of 15% for no initial consideration. The Goulamina JV has the obligation to expend a minimum of A$250 000 over two years on mineral exploration activities on the concessions.
The construction of the Goulamina project is on track, with 45% of the $255-million project capital having been committed, and the majority of the spend to take place this year.
Key Contracts, Suppliers and Consultants
Lycopodium (updated DFS, and engineering, procurement and associated project management services contract).

Contact Details for Project Information
Firefinch, tel +61 8 6149 6100 or email info@firefinchltd.com.