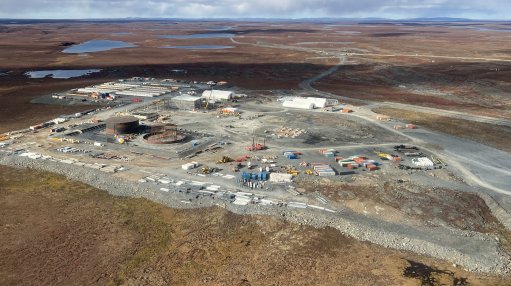 A September 2023 photo of the Goose site in Nunavut.
The Goose gold mine, in Nunavut, is on schedule to pour its first gold in the first quarter of 2025, Vancouver-based B2Gold reported on Monday.
The company also stated that its construction capital expenditure remained in line with its June 2023 estimate of C$800-million, plus an additional C$90-million for accelerating underground development. To date, B2Gold has spent C$530-million on the project.
The accelerated underground development plan, which was previously announced, entails an increase in gold output in the first five years to more than 300 000 oz/y.
In a project update, B2Gold reported that all long lead items for the 2024 construction season had been received at its freight consolidation points, prepped for ship transport. The 2023 sealift is under way, including the delivery of 24-million litres of diesel fuel.
Preparations for the ice road construction are also under way. A request for proposal process has closed and a contractor decision will be made before the end of September.
The execution strategy for the 2024 ice road season involves an earlier start to the road construction than previous years, which contributes to de-risking the trucking season. In addition, the ice road construction will begin from the middle and work outwards in each direction, which should enable the ice road to be completed earlier than in prior seasons.
B2Gold also noted that earthworks necessary to extend the airstrip would be completed this month. Extending the airstrip to 5 000 ft will allow large capacity, fully loaded passenger planes to land at the Goose project during the 2024 construction campaign.
The company recently opened Phase 1 of its accommodation complex to support accelerated construction, mining and exploration activities. Phase 1 of the complex includes 310 beds at the permanent site location and 160 beds located at the existing exploration camp.