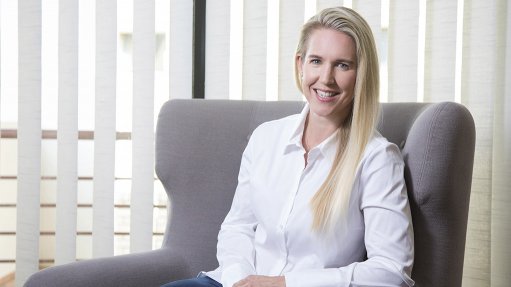 KIM SCHOEPFLIN The pandemic has not affected Kwatani's business as negatively as originally expected
Vibrating original-equipment manufacturer (OEM) Kwatani's capital project pipeline is "exceptionally strong against the back-end of weak markets", which Kwatani CEO Kim Schoepflin says is a result of time spent actively working with mining and project houses during the worst of the pandemic.
For Kwatani, the past year was also "not as bad as we all expected it to be", she says.
"We were fortunate to be busy throughout the year. Even our aftermarket business has awoken and is starting to catch up after months of reduced activity. We are seeing much improvement."
Schoepflin ascribes Kwatani's continued success to the company's different approach to addressing screening and feeding challenges for processing plants across a variety of commodities throughout Africa.
One of Kwatani's differentiating factors is its entirely South African engineering and technical competence, as well as its localised technical intellectual property (IP).
"Our entire technical IP rests locally, in our company. It does not have to be imported and is not under any kind of licence. There is no need to call in an expert from another country. Everything is local and in-house, which makes us fast, flexible and proactive when acting on customer needs."
Moreover, the company manufactures locally, which includes not only its screens and feeders but also its gearbox drives, resulting in minimal imports. The majority of Kwatani's procurement being local means its cost-base is centred on the rand.
"Being able to produce and buy locally is of great benefit, in terms of cost and quality. We have long-standing relationships with our suppliers, most of which are within a 10 km radius, which enables us to integrate and expedite quality control into our processes," Schoepflin explains.
In addition to prioritising local manufacture, Kwatani's ethos is also focused on engineering for tonnage and performance.
"We produce streamlined, future-driven equipment designed to increase processing capability. They're made to be robust and designed to be more efficient and to meet tonnage requirements," she says.
Schoepflin explains that the company's approach to designing a vibrating equipment solution is to first define optimal metallurgical screening parameters, and then to define the five main mechanical screen parameters, which are the speed, the stroke, the angle of the stroke, the angle of the screen and the screening media.
To achieve the optimal combination of these parameters when crafting bespoke screening solutions for clients, Kwatani has expanded on its investment into research and development (R&D).
The company houses an R&D laboratory on its premises, along with a materials testing laboratory where clients can bring difficult-to-screen materials for testing.
"We have a versatile test screen that can change every single screening parameter, enabling us to find the sweet spot prior to engineering and manufacturing the right screen for the process," Schoepflin explains.
Recent Projects and Trends
Over the past year, Kwatani has noted increased activity in the gold, manganese and iron-ore mining sectors.
In terms of the gold sector, the company supplied an array of small to medium-sized horizontal vibrating screens for either trash or sizing applications.
Numerous large, heavy-duty screens were supplied to the iron-ore and manganese sectors.
Notably, a large-scale 54 t scalping screen was supplied to a major South African iron-ore mine in October. The screen, which is a single line bespoke unit, can process up to 7 000 t/h of run-of-mine (RoM) iron-ore. The ore, containing large boulders of 450 mm in size and larger, is fed into the screen from a great height.
"It's a unique solution in terms of its tonnage processing capability. It is exceptional because most processes don't require so much capacity," Schoepflin tells Mining Weekly.
Meanwhile, several grizzly screening solutions were supplied to the manganese sector. These extremely heavy-duty upfront RoM screens have cast manganese bars, which are designed to eliminate the clogging of RoM ore. Such screens are usually installed ahead of the primary crusher.
Schoepflin explains that a noticeable trend in the mining sector is the demand for high-capacity equipment in plant optimisation projects, where mining customers are typically looking to save on energy or water use – particularly in the more arid regions of Africa.
She says equipment with increased capacity and higher efficiency often needs to be retrofitted into predefined footprints in pre-existing process plants – a notable technical challenge.
Moreover, customers are increasingly demanding less maintenance and increased longevity. This requires special construction methods and material selection, as well as the inclusion of early wear-detection technology on hardware and components, Schoepflin explains.
"None of this would be possible without having our technical staff nearby, working closely with the customer either in South Africa or in other African countries."
Kwatani delegates will attend the virtual Investing in African Mining Indaba conference on February 2 and 3, where Schoepflin hopes to see even more positive signals and more new projects.
"Covid-19 has really caused havoc across global markets, and has threatened productivity everywhere," she says, adding that the industry needs a hopeful message.
She notes that OEMs, such as Kwatani, are essential to support the infrastructure needs of African mining, which is needed for the promotion and strengthening of local mining investment.
"As an OEM, our role is to give investors, mining companies and other global stakeholders confidence in South African engineering and manufacturing," Schoepflin concludes.