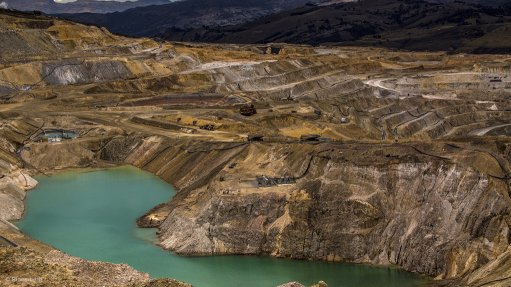 MOUNTAINOUS POTENTIAL South America's vast mineral reserves ensure that its countries have relatively stable mining industries
Photo by: Bloomberg
South American mining countries Argentina, Brazil, Chile and Peru have adequately managed the 2015 commodities crash, as their mining industries remain stable with a positive outlook, advises international market researcher BMI Research.
BMI commodities analyst Molly Shutt notes that the countries have great geology, relatively favourable policies and fairly strong project pipelines. She expects that the countries' mining industries will continue to attract investment, increase efficiencies and expand through to 2020.
Argentina has only recently emerged as a potential regional mining power, owing to its previous restrictive policies, which deterred investment and left the industry underdeveloped. Shutt notes that this was something of a blessing as the industry experienced a less-severe downturn during the commodities price collapse with the country's mining industry value (MIV) falling from a peak of $16.4-billion in 2012 to $14-billion in 2015.
She expects the industry to grow in terms of value and overall production, owing to President Mauricio Macri's market liberalisation policies, which have improved the business environment.
"Macri's rapid liberalisation reforms have gradually eroded the previous administration's protectionist economic agenda," Shutt states, citing the recent repeal of the mining tax, the removal of nearly all export taxes and the curtailing of costly energy and transport subsidies.
She says Argentina's MIV accounts for 3.1% of its gross domestic product (GDP). The country's top mineral exports are gold and copper, and it has an estimated two-million tonnes of lithium, with significant copper and precious metal reserves. BMI estimates Argentina's current MIV to be worth $14.1-billion.
Argentina has a modest project pipeline, most of which will come on line between 2017 and 2020. "The immediate outlook for Argentina's mining sector is positive, with increasing investment forecast, as well as a growing project pipeline," Shutt states, noting that the lithium sector should garner significant foreign investment in the future.
Market Turn Will Bolster Growth
Brazil's MIV accounts for 2.8% of its GDP. Its main mineral exports are iron-ore and bauxite, and the country's largest iron-ore mines are Brazilian miner Vale's Carajas and Mariana mines, located in Para and Minas Gerais respectively.
Brazil holds estimated reserves of about 12-billion tonnes of iron-ore, ten-million tonnes of nickel, 2.6-billion tonnes of bauxite, 700 000 t of tin and 84.7-million ounces of gold.
While Shutt expects Brazil's MIV to contract by 14.2% in 2016 – owing to weak iron-ore prices – she believes that the country's MIV will improve, averaging growth of 7.8% a year between 2017 and 2020 should mineral prices stabilise. "In terms of value, we expect Brazil's MIV to increase from $41.4-billion to $55.8-billion by 2020."
Shutt notes that Brazil's current political instability, resulting from former President Dilma Rousseff's ousting, has had little impact on day-to-day mining operations, noting that Vale continues to ramp up iron-ore output. Therefore, Vales's Carajas Serra Sul (S11D) project is on track to begin production this year, despite the country's economic woes and the costs of damages resulting from the Samarco tailings dam disaster in November.
Brazil's mining sector has been battered by the commodities collapse, Shutt says, noting that "MIV has halved since 2011, plummeting from $85.9-billion to the 2016 forecast of $41.4-billion". As a result, miners in Brazil will continue to cut costs and curb production over the next few years.
Nonetheless, Shutt notes that Brazil's vast mineral reserves, large consumer market and diverse industrial base continue to attract investors, despite its weak economic outlook and numerous trade barriers, including a burdensome tax regime and bureaucratic red tape.
Government Support Crucial
The Chilean government has provided significant support to the mining sector in response to the weak copper price environment. Shutt explains that, in October, State-owned copper company Codelco received $600-million from government to help fund an ambitious multiyear investment plan. "Mining is definitely recognised as a key sector, accounting for about 11% of Chile's GDP. Further, as the largest copper producer in the world, copper prices directly influence the country's currency."
The drop in copper prices has decreased Chile's MIV, which fell from a peak of $37.4-billion in 2011 to $26.7-billion this year. Shutt says Codelco is likely to continue to prioritise cost cutting, forgoing expansion plans, laying off workers and improving efficiency.
Despite this, Chile's open markets and absence of restrictions on international trade ensure that it is a pre-eminent destination for foreign mining investment. "Investors stand to benefit from the country's range of free-trade agreements with key trading partners, including the European Union, the US and China," Shutt says.
She emphasises that Chile offers a stable policy platform and treats foreign and domestic businesses equally under law. BMI expects the Chilean government to maintain its broader promining orientation, as the sector is important in promoting economic growth and government revenue. Chile's mining sector, says Shutt, will continue to benefit from the country's vast mineral reserves, strong business environment and well-developed sector infrastructure.
Copper Can Still be Profitable
Peru's primary mineral exports are copper and zinc. The country's reserves comprise about 82-million tonnes of copper, 4.2-billion ounces of silver, 25-million tonnes of zinc, 98-million ounces of gold, 6.7-million tonnes of lead and 130 000 t of tin.
BMI expects Peru's mining sector to account for 11.4% of the country's GDP (or $21.3-billion), up from 10.8% last year. Shutt notes that Peru's mining industry will be South America's best performer in terms of growth and the copper sector will overtake China as the world's second-largest producer, owing to its exceptionally strong project pipeline.
"Peru stands out globally for the size, in terms of both value and output, of its copper project pipeline," she says, pointing out that the Las Bamabas mine, located in Apurímac, and owned by diversified miner MMG, began production last quarter and should ramp up to 400 000 t/y by 2017. Moreover, there are eight other copper projects expected to come on line before 2019, including diversified miner Anglo American's Quellaveco project, located in the Moquegua region; diversified miner Freeport McMoran's Cerro Verde, south-west of Arequipa; and US copper miner Southern Copper's Toquepala and Tia Maria projects, located in the Tacna province and Moquegua region respectively.
Shutt expects Peru's rapid copper production growth supported by vast reserves, low operating costs and a strong project pipeline to continue to set the country apart from its South American peers.