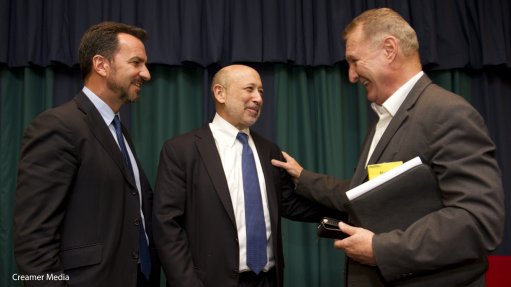 Lloyd Blankfein (centre) flanked by Colin Coleman (left) and Martin Creamer
Photo by: Duane Daws
JOHANNESBURG (miningweekly.com) – The commander-in-chief of the world's biggest investment bank on Wednesday gave the thumbs up to scaled investment in South Africa, which he sees as having "enormous potential" and also "a lot of risk".
Speaking at the Gordon Institute of Business Science (Gibs) in Johannesburg, Goldman Sachs chairperson and CEO Lloyd Blankfein said in response to Creamer Media's Mining Weekly Online that he was generally bullish about South Africa as a favourable investment destination, but that it was appropriate to scale such investments to country risk.
Blankfein, who was a regular visitor to South Africa during a period when he headed Goldman Sachs' precious metals desk, said he would give the exact same answer if asked about investment in China.
"If you're investing in South Africa, you're taking a lot of risk and there's enormous potential. And so, we would invest, we have invested and we do invest and we're open for investment, but we must scale it so that we don't become so committed that the P&L [profit and loss] of an investment determines our view of the opportunities in the country. If you asked me about China, I would give you the exact same answer," he said.
He postulated that troubled South African State-owned enterprises might also consider taking a cue from China's hybrid system, where huge State-owned enterprises (SOEs), vitally important to the development of China, remained controlled by the central government, and in most cases 80% majority owned – but with a 20% float on stock exchanges, which subjected them to stock exchange discipline and transparency.
He elaborated that while such enterprises remained State owned, the shareholding could be such that the private shareholders would not only root for the success of the SOEs, but also bet on their success.
As shareholders, they also cared about the governance, integrity, management and management compensation aspects of such State enterprises, Blankfein added to Mining Weekly Online.
On his rating of the Johannesburg Stock Exchange (JSE), Blankfein was complimentary.
"I'm not that close in terms of its operation, but it's big and it's liquid and it punches far above its expectations for the size of the economy that it supports," he said of the JSE.
He told the Gibs audience that although South Africa was doing better than some other emerging markets, it was not meeting its expectations.
Aspects of South Africa's problems were the same as those in many other countries, including unemployment, inequality and a need for investment in infrastructure, though certain distinctive aspects were amplified in South Africa, including vast inequalities that had to be changed, but from a far lower base, which also presented unique growth advantages.
He emphasised the importance of a country's standard of education, which had a great bearing on where companies like Goldman Sachs invested.
New York Bronx-born Blankfein, 60, who was reared in public housing as the son of a US postal service clerk, has been with Goldman Sachs for more than 30 years.