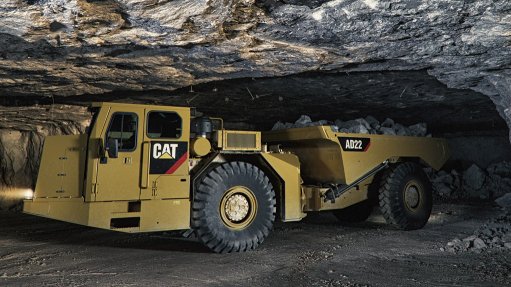 DRIVING EFFICIENCY At 22 t capacity, the AD22 is the smallest underground truck in the Caterpillar equipment line, yet it offers greater payload than competitor trucks of the same size
Capital equipment giant Caterpillar says it is focused on optimising operations – whether surface or underground, large or small – and resolving the issues critical to their success, and will present its technologies and services at the 2018 Investing in African Mining Indaba, in Cape Town.
The company's exhibit will feature digital displays of electric power generation systems, surface and underground mining equipment, and Cat MineStar technology capabilities – ranging from vehicle safety systems such as object detection to production systems using semiautonomous and autonomous machine operation.
Caterpillar is a gold sponsor of the Mining Indaba, which will run from February 5 to 8 at the Cape Town International Convention Centre, because the company and regional Cat dealers are invested in the African mining industry, says Caterpillar Southern African mining business manager Michael Latham.
"Our mission is to help our customers succeed by partnering with them to meet the challenges that they face. Through the use of Cat technologies, equipment and support services, we can help customers boost safety and productivity while driving down costs."
Caterpillar's Mining Indaba exhibit will be staffed by its Southern African dealer, industrial supplier Barloworld Equipment. These personnel are able to provide both technical information and practical insights.
Additionally, Latham notes that Caterpillar financial personnel will also be on-hand at the exhibit to discuss customised finance for projects and equipment, as well as extended protection solutions designed to keep businesses moving forward.
Meanwhile, over the past few months, Caterpillar has delivered the first three AD22 articulated underground trucks to Mopani Copper Mines, in Kitwe, Zambia, in which diversified miner Glencore has a 73.1% shareholding.
Caterpillar underground mining division global director of sales and product support David Rea explains that, at 22 t capacity, the AD22 is the smallest underground truck in the Cat line, yet it offers greater payload capacity than competitor trucks in its size class. He adds that its robust and manoeuvrable design serves well in smaller underground areas.
Further, regional Cat dealers have delivered several new R1700 underground loaders, the first of the next generation of Cat load-haul-dump (LHD) trucks. "The new loader is designed to help customers lower cost per ton through increased payload, improved pile penetration and greater breakout force," says Rea.
He emphasises that as a safe and productive alternative to in-cab operation, Cat Command technology enables teleremote and semiautonomous operation of the new LHD trucks and others in the Cat line.
Caterpillar continues to invest in research and development to address the needs that mining customers voice. For example, testwork continues on the company's RH55 Rockheader, which is designed to deliver rapid, cost-effective mine development using Cat proprietary rock cutting technology.

Drilling Down
The extensive line of Cat surface mining machines and technologies continues to evolve as automation grows, says Caterpillar. Cat MineStar Command now includes systems for autonomous operation of large mining trucks and semiautonomous operation of dozers and rotary drills. These systems, states the company, enhance safety, boost production and lower cost per ton.
The latest model in the surface mining line is the MD6250 drill, which is designed for both down-the-hole drilling in hard rock and rotary drilling in softer rock. The blasthole drill does single-pass and multi-pass drilling, as well as angle drilling. The versatile drill features proven Cat components and robust design for superior reliability and durability, highlights Rea.
"The MD6250 is also autonomous-ready with MineStar options ranging from remote control to semiautonomous drilling. "Cat Terrain for drilling provides precision guidance that helps operators complete patterns accurately and productively."
Rea adds that it pays other dividends too by improving safety, reducing costs and recording data about drilled strata to aid in planning. Terrain for drilling uses precision satellite guidance to increase pattern accuracy by up to four times. Command for drilling automates the drilling cycle, allowing an operator to manage three drills simultaneously.

Power Up
Caterpillar offers Cat generators that can deliver reliable, continuous power, temporary power, or a combined heat and power solution. The Cat team is able to customise and install systems for every phase of mining.
Rea highlights that the generators are engineered to keep mining operations running efficiently, while protecting personnel and the environment.
Moreover, Caterpillar offers the industry's widest range of diesel, gas and dual-fuel generator sets; automatic transfer switches and switchgear for seamless integration.
"A recent development is the Cat Microgrid – fully integrated power systems that use solar panels, energy storage and monitoring and control systems in conjunction with any configuration of Cat generator sets, switchgear and automatic transfer switches necessary to provide cost-effective power for on- and off-grid applications," Rea avers.
Caterpillar and Barloworld are installing a 7 MW solar power system at gold miner B2Gold Corporation's Otjikoto mine, in Namibia. The full system, including Cat photovoltaic solar modules and the Cat microgrid master controller, will be used to reduce reliance on a heavy fuel oil power plant, which is currently being used to power the mining facility.