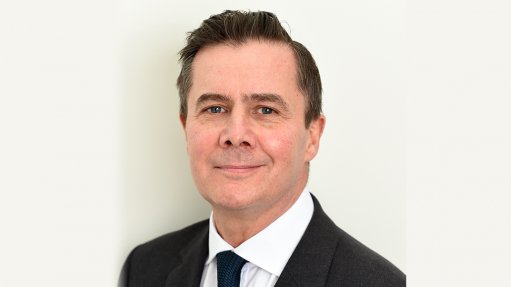 JOHN MULLIGAN Reducing emissions is aligned with the challenge facing the global economy, and also represents a clear and concentrated opportunity to decarbonise gold
The gold mining industry is moving towards demonstrating high standards of environmental, social and corporate governance (ESG) performance, and its commitment to transparency and accountability.
This trend also stems from encouraging widespread implementation of the responsible gold mining principles (RGMPs), together with external assurance from an independent provider, states commodity organisation World Gold Council (WGC) member and market relations head John Mulligan.
"Before we launched the RGMPs in 2019, there was no overarching framework that set out clear explanations for investors and downstream users as to what constitutes responsible gold mining. While there were several established frameworks guiding sustainable and responsible practices across mining, none were defined specifically in consultation with gold industry participants and stakeholders."
He adds that the RGMPs, therefore, sought to combine the existing good practice standards with the specific needs and concerns of gold mining and downstream practitioners, investors and consumers, as well as host community representatives.
Mulligan notes that there are ten summary principles, and 51 detailed principles, which address all the relevant key ESG challenges for the gold mining sector.
These principles are now mandatory for membership to the WGC and, therefore, already cover a substantial portion of yearly corporate gold production. They are also independently assured, and – after the initial three-year implementation cycle – assurance is publicly disclosed.
Decarbonising Gold
Mulligan states that WGC research suggests that gold's overall carbon footprint is not large – comprising only about 0.4% of yearly global emissions.
"This is not to say that this is insignificant, however. Nearly all the emissions from the global gold supply chain originate from the mining process, and over 80% are from its generation or consumption of electricity. Reducing these emissions is aligned with the challenge facing the global economy, and also represents a clear and concentrated opportunity to decarbonise gold."
He says reducing – and eventually removing – fossil fuel-generated electricity from gold mining will result in power sources delivering substantial emissions reductions and guide the industry towards aligning with the Paris Agreement's climate targets.
This reduction and removal of emissions can be done either at a mine site or from the power grids to which the mines are connected.
As renewable-energy sources become more affordable and accessible, and new mining technologies develop to support energy and operational efficiency, the transition towards decarbonisation should prove increasingly cost effective.
This should ultimately also create value for the sector, adds Mulligan.
"The transition should also support wider interest in the gold sector, including extending gold's appeal as a safe haven asset, and encouraging wider investor consideration of its potential as a low-carbon, climate risk-mitigation asset," he comments.
Development Outcomes
Mulligan argues that responsible gold mining can also support sustained socioeconomic development in many of the countries and communities that host gold operations.
Responsible gold mining can contribute to community development, particularly in countries whose local capacity and income opportunities may otherwise be limited.
"It creates well-paid jobs for local workers, stimulates local economies, provides valuable tax revenues for host governments, and can create additional enduring benefits for local communities through the provision of infrastructure, and health and education services."
The WGC has, over the past decade, repeatedly documented this potential for the sector to contribute to development, particularly in the organisation's 2021 'The Social and Economic Contribution of Gold Mining' report.
This report examines the value contributed by the council's member companies in the countries in which they operate.
This analysis, covering 31 member companies operating in 38 countries and producing 34.5-million ounces of gold, found that the companies collectively contributed almost $38-billion to the gross domestic product of host countries.
This number represented 63% of the total revenue the companies received from gold sales, and equates to almost $1 100 worth of value added locally for every ounce of gold produced.
"Gold miners, including our members, have supported their host communities beyond the mine by investing in infrastructure and providing education opportunities, as well as healthcare facilities and services. They have also, for example, made substantial progress in some locations in tackling malaria and, more recently, in offering Covid-19 relief."
WGC representatives will attend the Investing in African Mining Indaba, to be held at the Cape Town International Convention Centre from May 9 to 12.
Mulligan and WGC CEO David Tait will be speakers at the event, as it will feature a gold commodity panel in partnership with the WGC that Tait will be moderating on May 10.