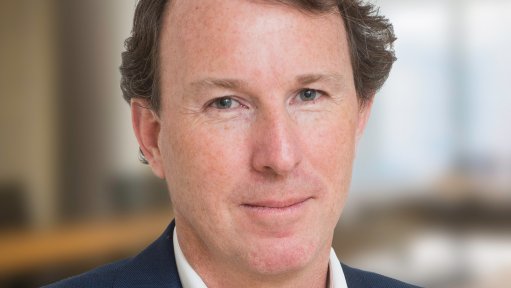 Endeavour president and CEO Sebastien de Montessus
TSX-listed companies Endeavour Mining and Teranga Gold on Monday announced a merger, creating a global top ten senior gold producing company, and the largest gold miner in West Africa.
The combined entity would produce more than 1.5-million ounces a year.
Simultaneously, Endeavour confirmed its intention to seek a secondary premium listing on the LSE next year. The company would be the largest premium listed gold producer on the exchange.
The merged entity would comprise six core operating mines in three countries – Senegal, Burkina Faso and Côte d'Ivoire.
The new company would also have the largest exploration portfolio across the underexplored West African Birimian Greenstone Belt.
Existing Endeavour and Teranga shareholders would own about 64% and 36%, respectively, of the combined entity.
Teranga's common shares would be exchanged at a ratio of 0.470 Endeavour ordinary shares for each one Teranga common share.
The exchange ratio represents a modest premium of 5.1% based on the closing price of Endeavour and Teranga's shares on the TSX on November 13, and 9.4% based on the 20-day volume weighted average price of both companies for the period ended November 13.
Endeavour president and CEO Sébastien de Montessus noted that the combination offered an attractive opportunity to both sets of shareholders.
"By combining our complementary assets, we will enhance our strategic position on West Africa's highly prospective Birimian Greenstone Belt and we will have the ability to deliver material synergies. The combined entity will become a new senior gold producer and enjoy an improved capital markets profile, underpinned by a healthy balance sheet and strong cash flow capabilities to support a sustainable dividend.
"This transaction is immediately accretive to our shareholders on a net asset value basis and broadly earnings per share neutral over the next two years. It will be strongly accretive from 2023 when the Sabodala-Massawa project is ramped up into a top asset in the region, while immediately adding geographic diversification into mining-friendly Senegal," he added.
The Wahgnion mine provides immediate cash flow and the rapidly advancing Golden Hill and Afema projects offer further growth optionality.
"The Teranga management team has done an outstanding job unlocking value and we look forward to continuing to deliver returns for shareholders through the creation of a business with outstanding prospects," De Montessus said.