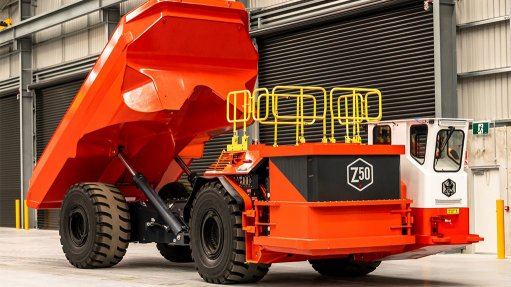 Photo by: SANDVIK
PERTH (miningweekly.com) – Gold miner Gold Fields will trial new battery electric vehicles (BEV) at its St Ives operation in Western Australia.
The company has struck a deal with heavy equipment provider Sandvik, which will see the St Ives mine become the first in Australia to receive the new Sandvik LH518B 18-t BEV underground loader.
The operation would also take delivery of an Artisan Z50 50-t BEV truck.
The information gathered in the trial operation over the next two years would be used to enhance not only the vehicles at St Ives, but also future BEVs produced by Sandvik.
"The real-world data that we gather will be invaluable. Our expectation is that these BEVs will prove not only clean and reliable but that they will deliver extremely high levels of uptime," said Sandvik business line manager for load and haul Andrew Dawson.
Gold Fields VP for Australian operations Graeme Ovens said that the use of BEVs formed part of the company's strategy to reduce carbon emissions at its operations.
"If this trial is successful, and we believe it will be, then we will look at rolling this technology out to our remaining underground mines in Australia. We have also had our South Deep mine in South Africa asking for this technology. They will be keeping a watchful eye on the results of this trial," said Ovens.
He noted that Gold Fields is working towards having all of its underground mining operations be fully electric, with no diesel machines underground.
"We are also aiming to be fully automated and, hopefully, to get to a point where there will be nobody working underground. Everything will be either autonomous or operated from the surface."