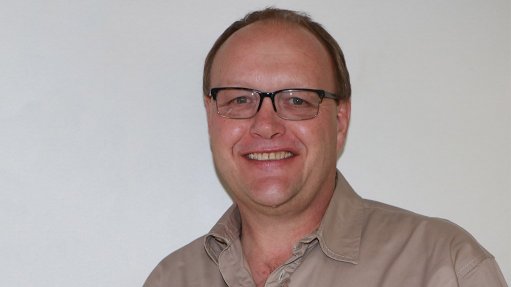 Gold Fields VP South Africa Martin Preece
CAPE TOWN (miningweekly.com) – Gold Fields' South Deep gold mine west of Johannesburg in Gauteng will be generating its own solar power at a mere 8.5% of the cost of power from the national grid.
The JSE- and New York-listed company is also optimistic that it will be successful in augmenting the solar power generated with wind power, Gold Fields VP South Africa Martin Preece said during a media briefing at the Investing in African Mining Indaba covered by Mining Weekly.
"We start commissioning in August and we'll be up and running during the third quarter of this year. All the solar panels are on site and we have only 8% of spend left on the project," said Preece.
"We're generating power at about 8.5% of our grid cost and the capital cost is R14 300 a kilowatt," he said. The project has been carried out in-house, with the capital cost being absorbed and the margins destined to be put back in the business.
South Deep is targeting 30% net emission reduction by 2030 and achieving net- zero by 2050.
"In essence it means that by 2030, we have got to be at 50% net reduction to get back to the 2016 base," added Preece.
Ninety-three per cent of Gold Fields' emissions relate to coal-fired electricity, which has resulted in a major focus on looking at alternatives to grid power from Eskom.
"We've got a five-pronged strategy looking at grid and vehicles," he added.
South Deep will be getting its first electric vehicle later this year and will be looking to biodiversity and carbon capture initiatives so that as the mine approaches 2050, the full emission spectrum would have been covered.
"It's an existential crisis and as leaders we need to take charge of it. We believe we can make a difference and we'll engineer a solution as we go forward.
"We're looking initially at solar, and we are investigating wind, we've got hydrogen on our radar screen and then storage solutions as well as potential options to get us to net zero, our commitment," Preece said.
"Hopefully we can get there sooner, but it's definitely the right thing to do and we believe it is a significant value add rather than a cost burden our business."
With all the environmental, social and governance interventions, South Deep is looking to add value by adopting climate mitigating practices.
South Deep, a bulk mechanised underground mining operation in the Witwatersrand basin, near Westonaria, was early last year issued with a generation licence for a 40 MW solar photovoltaic plant against the background of the mine consuming all the power generated. The 40 MW has since been upgraded to 60 MW.
Regarding South Deep's early renewables advances, Preece said the company ensured that it understood what the National Energy Regulator of South Africa (Nersa) wanted in obtaining its licence.
He disclosed that environmental impact assessment had now commenced for the potential wind farm at South Deep, for which an 18-month lead time is expected.
On meeting Nersa's requirements, Preece highlighted that South Deep had made a point of walking the journey with Nersa, which resulted in upgrading in reasonable time from the initial 40 MW to 60 MW once the requirements had been met.