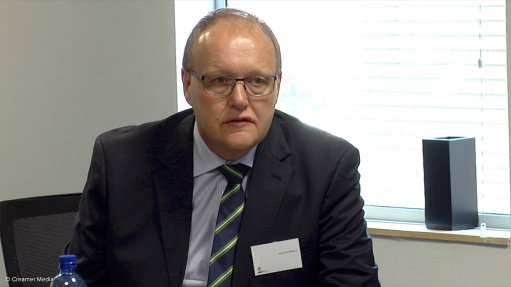 Gold Fields executive VP Martin Preece
Photo by: Creamer Media
JOHANNESBURG (miningweekly.com) – Gold mining company Gold Fields, which has placed its South Deep gold mine in Gauteng on care and maintenance for the 21-day lockdown period, is promoting human welfare funding across a number of fronts during the Covid-19 crisis.
Firstly, South Deep, the Westonaria mine with a 70-year life, will be paying its employees R96-million in wages during the 21-day period.
At the same time, the temporarily closed mechanised gold mine will continue to pay small, medium-sized and microenterprise service providers and small-scale contractors R22-million for the period.
With the support of the Gold Fields management, it will also be making a R15-million contribution to the Solidarity Fund announced by President Cyril Ramaphosa as an independently administered vehicle to prevent and detect the coronavirus and care and support those whose lives have been disrupted by the pandemic.
"While we, like other businesses across South Africa, find ourselves in a very challenging situation, we recognise that we have a broader responsibility to make a positive contribution to combat this pandemic," Gold Fields executive VP Martin Preece stated in a briefing document to the people of South Deep.
The document outlined how the mine was working closely with local government and the health authorities to make available limited isolation and medical care facilities, should these be required.
"This is a global pandemic, with enormous national consequences. But the real impact will be felt by the employees and communities that sustain our industry. It is here that we must seek to make a difference.
"I also want to commend the work currently being done by personnel engaged in essential services at South Deep during the lockdown.
"These women and men are ensuring that our mine remains secure, and in a shape that we can safely and sustainably resume operations at the end of this period.
"They are doing so with diligence and utmost care, and we're incredibly proud of them and their attention to preventing any spread of the disease," Preece added in the document, the contents of which was affirmed by Gold Fields for publication by Mining Weekly.
In an earlier statement, Gold Fields stated that it had sufficient liquidity to withstand an interruption to its operations for a considerable period of time but would work towards minimising the impact of Covid-19 on its operations.
In publishing its integrated annual report for 2019 and a number of associated reports on its website, CEO Nick Holland provided an update on the impact of the Covid-19 pandemic on Gold Fields and its operations, detailing the actions taken by the company to date, both in response to government directives and on its own accord.
Apart from South Deep, the rest of the group production has been largely uninterrupted but against the background of increasingly stricter regulations being put in place by governments around the world.
As a result, Gold Fields has cautioned that its production and cost guidance for the 2020 financial year provided in February had an elevated level of risk.
In an interview with Mining Weekly in 2018, Holland spoke of mechanised mines like South Deep presenting a huge gold growth opportunity for mineworkers, government and industry at a time when deep-level gold mining is in urgent need of modernisation.
Holland said the mine, in which his company has invested R29-billion, could project a growth horizon in gold mining to counter South Africa's sharp decline in gold production.
"We could potentially add more to the economy, both locally in Westonaria, which has been one of the most depressed areas of South Africa, and we can put more money into the fiscus and show the world that we can be world class in mechanised mining," he added.
Gold Fields has been spending R200-million a year on training, which it believes will set South Africa on an exciting new successful course in the pioneering fields of fully mechanised mining - a brand new South African pursuit at depth in gold.