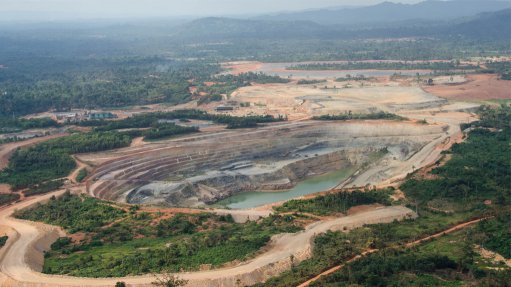 Asanko gold mine
JOHANNESBURG (miningweekly.com) – South African miner Gold Fields has teamed up with Canada-based Asanko Gold in Ghana, with the gold miners announcing on Thursday that the JSE-listed major would buy a 45% interest in the Asanko gold mine (AGM) for $185-million.
The companies have agreed to form a 50:50 joint venture (JV), which would own Asanko's 90% interest in its namesake gold mine and other properties in Ghana. The Ghana government holds a free-carried 10% interest.
In addition, Gold Fields would also buy a 9.9% shareholding in Asanko for $17.6-million.
The AGM is a multi-deposit complex with two main deposits, namely Nkran, which is the main ore source and deposit that is being mined at the moment, and Esaase. These deposits, CEO Nick Holland said, formed part of a fairly well-defined series of structures which was unexplored in many areas of the property, which spans about 540 km2.
Holland stated that the Asanko JV would provide Gold Fields with immediate access to low-cost production ounces. The mine is forecast to produce about 253 000 oz/y between 2019 and 2023, at all-in sustaining costs of $860/oz.
"The transaction exceeds our requirement of a return of 15% at a gold price of $1 300/oz, with a payback period of five years out of an anticipated life-of-mine of at least 15 years. The transaction is demonstrably accretive to Gold Fields," he said in a conference call with journalists.
Holland advised that, despite the company's current investment programme at Damang mine in Ghana and Gruyere JV in Australia, the acquisition was well within its balance sheet capacity, particularly as it is a producing asset.
The acquisition would be funded from cash and/or by drawing down on existing debt facilities.
The purchase consideration comprises an upfront payment of $165-million on closing of the transaction and a deferred payment of $20-million.
Also attending the conference call were Gold Fields CFO Paul Smith, Gold Fields strategy and corporate developments head Brett Mattison and Gold Fields investor relations head Avishkar Nagaser.
Shares in Gold Fields fell by 6% after the transaction was announced to trade at R45.75 by 11:00 in Johannesburg.