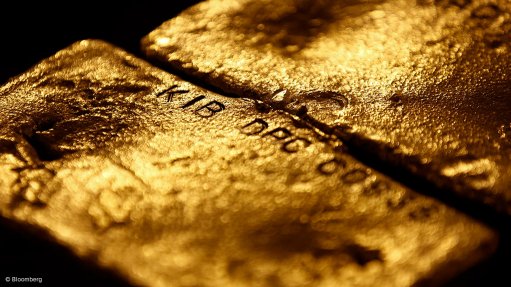 Photo by: Bloomberg
JOHANNESBURG (miningweekly.com) – Lacklustre investor performance, stemming from investors' decisions to embrace a "wait and see" approach in light of geopolitical uncertainty muddying growth and market outlooks, has contributed to soft first-quarter gold demand, the World Gold Council (WGC) reports.
The WGC's 'Demand Trends' report for the first quarter notes that gold demand declined by 7% year-on-year to 974 t.
WGC member and market relations head John Mulligan explains that this was largely as a result of overall investor demand declining by 27% year-on-year. He suggests that the hesitancy demonstrated by gold investors is a result of the unpredictable macroeconomic outlook.
While acknowledging that, typically, geopolitical uncertainty sees a move toward gold, Mulligan notes that this type of uncertainty is characterised by risk aversion. "Typically, investors know what the risks and associated factors are, but are unsure of the outcome."
He notes that, this year, mixed economic signals and seemingly increasing volatility bombarded investors and, as such, they are unsure of what the risks and implications of any given event, policy or tweet could be.
"It's not heightened risk awareness . . . it's a question of mixed signals and an inability to predict trends supported by quantitative or qualitative data."
As an example, Mulligan cites months of escalating tensions between the US and North Korea – tensions which have since fizzled out.
"Similarly there have been other major economic risks or concerns that have heightened, only to dissipate relatively quickly."
He notes that another factor affecting investment in the first quarter was the subdued gold price environment as "the range-bound price oscillated between around $1 300/oz and $1 350/oz."
Mulligan points out that this lack of movement either way left the market without a clear sense of direction, further entrenching the wait-and-see approach.
In terms of retail investment products, demand was down 15% year-on-year, primarily owing to weak demand from the West, with European and US demand for coins and bars down 39% year-on-year and 77% year-on-year, respectively.
Mulligan notes that, while Chinese demand was also down 26% year-on-year, it is a skewed figure, as demand in the first quarter of 2017 was particularly exceptional, and the 78 t achieved in the first quarter of this year is above historical averages.
Demand for gold-backed exchange-traded funds (ETFs) was also down, accounting for 32.4 t in the first quarter; however, Mulligan says this "moderate" figure indicates that investors are still adding ETFs to their portfolios, and that the lack of disinvestment indicates that there has not been a change in sentiment for gold.
Further, he points out that ETFs accounted for an additional 70 t in the first three weeks of April.
Global jewellery demand was flat at 488 t, down 1% year-on-year.
Demand in China was up 7% and US demand continued to recover, up 2% based on the positive economic backdrop. Turkish demand increased by 19%, which Mulligan notes is significant because it highlights that a strong economy (Turkey achieved 7.5% gross domestic product growth in 2017) and strong consumer confidence strengthens jewellery demand.
Meanwhile, Indian consumers were discouraged by rising local gold prices, exaggerated by a weakening rupee, with demand down 12% year-on-year. Mulligan expects the Indian jewellery market will recover later this year.
Central banks added 116 t to official reserves in the first quarter driving demand up 42% year-on-year. This increase was primarily driven by Russia, Turkey and Kazakhstan, which have become regular buyers.
Mulligan says that while central banks all have the same motivation – a desire to diversify reserve assets away from the dollar – Russia and Turkey especially, have explicit policies to strengthen and diversify reserves by buying gold.
The WGC report also notes that demand for gold in the technology sector continued to improve by 4% year-on-year. Mulligan points out that technology demand experienced its sixth consecutive quarter of growth, largely owing to a surge in demand for wireless technology and memory capacity, as well as "advanced" technologies becoming more mainstream.
Gold supply increased by 3% year-on-year to 1 064 t, as a result of increased mine production and net hedging. The minimal boost in supply is the result of increased production from Canada, Indonesia and Russia, while Peru and South Africa saw production decreases.
Meanwhile, recycled supply was flat at 287 t despite high local gold prices in a number of markets.
"Usually when there's high local prices, there's a spike in gold recycling because of people selling back jewellery, but we didn't see that this quarter," says Mulligan. He suggests that this is another indication of the wait-and-see approach, as people were unsure of where the market was going and, as such, were not tempted to sell.
"Overall, this may be seen as a weak quarter, but not one that indicates a shift away from gold . . . in terms of investor sentiment . . . there is some awareness that one needs to hedge in the volatile environment, and if this awareness increases it could be positive for gold," Mulligan concludes.