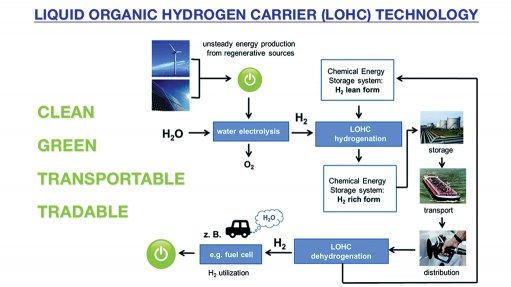 Liquid organic hydrogen carrier (LOHC) technology renders hydrogen oil-like.
JOHANNESBURG (miningweekly.com) – Three years ago the Hydrogen Council catapulted hydrogen to the forefront as a source of energy for transport and industrial companies.
Now mining majors are putting the spotlight on hydrogen once again with the launch of the Green Hydrogen Consortium, which Hatch marketing coordinator Alana Toniolo tells Mining Weekly is providing like-minded organisations with complementary capabilities to work together.
Hatch is programme managing the consortium that BHP, Anglo American and Fortescue have initiated and which is promising to scale up the use of green hydrogen and scale down the cost of producing it.
The Hydrogen Council began with 13 CEO members and then grew like Topsy to 81.
Now the Green Hydrogen Consortium is attracting the attention of more companies as it puts strong emphasis on green hydrogen and fuel cell technology for mobility and power generation in mining.
Fossil fuel dominance is under threat as climate change realities and the huge health lesson being meted out by the coronavirus outbreak are combining to remind the world that every day that passes is a day lost to urgent and essential reform that the world simply cannot afford to be without.
"If we don't take climate change issues very, very seriously, and see it as being part of our responsibility to respond in very effectful and impactful ways, God help us," Minerals Council South Africa president and Exxaro CEO Mxolisi Mgojo stated last week.
Technical advances and economies of scale are expected to lower green hydrogen production costs, while widespread sun and wind power use, as well as liquid organic hydrogen carrier (LOHC) technology, allow it to take on gasoline at $1/ℓ, or $4/gal of petrol, New York-based CPM Group MD Jeffrey Christian calculates. A McKinsey report states that by 2030, scale will take it down to the equivalent of $2.25/gal.
The oil-like character that LOHC gives to hydrogen allows it to be transported, stored and dispensed conventionally. A cubic metre of LOHC can convey 57 kg of hydrogen. Also, conventional road tankers, rail tankers or ships can be used to transport it.
"In my eyes, hydrogen's most important contribution to a future energy system will be that it makes renewable energy transportable and tradable on a global scale," said Germany-based Hydrogenious Technologies LOHC founder and CEO Dr Daniel Teichmann in response to questions by Mining Weekly.
A Dutch consortium last week announced an ambitious plan to create green hydrogen using power from a huge offshore wind farm The NortH2 proposal, by the Dutch arm of energy giant Shell, gas company Gasunie and Groningen Seaports, aims to produce 800 000 t of hydrogen a year.
Gasunie is a Dutch State-owned company that manages and maintains infrastructure for transport and storage of gas in the Netherlands and northern Germany.
The Netherlands is drastically cutting its production of natural gas following years of small earthquakes in the northern province of Groningen and also has laid out plans to slash carbon emissions in coming years.
The companies say using renewable energy in production will help achieve climate goals laid out by the Dutch government.
The International Council for Mining and Metals reportedly expects hydrogen fuel cells to power vehicles of the future against the backdrop of hydrogen being the simplest of all the elements and the universe's most abundant element.
The platinum group metals used in many fuel cell and electrolyser technologies have an established supply chain in place to support demand, while hydrogen has multiple sources, is easily transported in large volumes, has a high energy density and can be stored in bulk for weeks, months or years.
These qualities are crucial in being able to act as a partner to renewable energy, which is supplied intermittently.