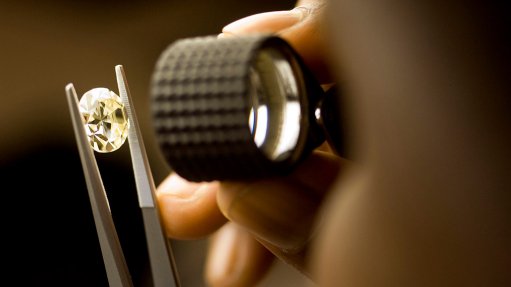 SPARKLING CHANCE Five historically disadvantaged South African-owned diamond cutting and polishing companies are participating in a three-year enterprise development programme
Diamond miner and marketer De Beers, along with government and other industry stakeholders, last week unveiled an enterprise development project for diamond beneficiators.
De Beers Sightholder Sales South Africa sales head Peter Moeti introduced the five historically disadvantaged South African- (HDSA-) owned diamond cutting and polishing companies that had been selected to participate in the three-year programme, namely Thoko's Diamonds, African Diamonds, Nungu Diamonds, Kwame Diamonds and Molefi Letsiki Diamond Holdings.
Moeti explained that the project aimed to facilitate the growth and transformation of the local diamond sector. He added that the success of the project depended on the support it was receiving from industry stakeholders.
The project's HDSA participants would also receive assistance in their entrepreneurial development and "hands-on" support from business incubator specialist Raizcorp.
Moreover, De Beers would provide bespoke rough diamonds for the programme's participants, in addition to its rough diamond purchases on the local market.
"On completion [of the programme], they will have an opportunity to apply as accredited buyers, before they ultimately are in a position to apply for sightholder status," he said.
De Beers Consolidated Mines chairperson Barend Petersen asserted that De Beers was "fully committed" to facilitating sustainable growth of the local diamond industry in South Africa.
However, he remarked that, for beneficiation to succeed in South Africa, there was a need to involve multiple stakeholders who would bring innovative thinking, skills and resources to tbe table
.
Mineral Resources Deputy Minister Godfrey Oliphant and Gauteng Premier David Makhura, who also spoke at the event, both congratulated De Beers on "advancing the country's mineral resource beneficiation agenda".
Recently appointed De Beers Group CEO Bruce Cleaver added that, if, through this partnership, the company could lay a successful platform for developing young beneficiators, it would go a long way towards creating a "sustainable and meaningful" diamond development pathway.