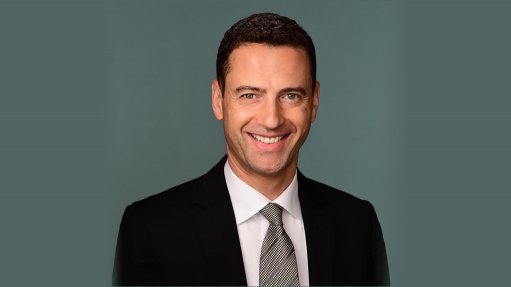 Glencore CEO Gary Nagle
JOHANNESBURG (miningweekly.com) – Diversified mining and marketing company Glencore on Tuesday announced 84% higher financial results for the year, with earnings before interest, taxes, depreciation and amortisation (Ebitda) rising to $21.3-billion.
Looking forward, Glencore CEO Gary Nagle said the company remained focused on its strategy to deliver decarbonisation and meet increasing demand for everyday metals, "while responsibly meeting energy needs of today".
Marketing earnings before interest and taxes were up 11% to $3.7-billion, while multi-year or record high prices for many commodities, underpinned the 118% jump in industrial Ebitda to $17.1-billion. Net income attributable to equity holders was $5-billion.
The significant improvement was driven by net being down to $6-billion, Nagle stated in a media release to Mining Weekly. This improvement allowed for the announcement of $4-billion to be returned to shareholders, comprising a recommended $3.4-billion distribution, alongside a $550-million new share buyback.
On climate-change strategy, the company committed to more aggressive total emissions reduction with a new short-term target of a 15% reduction by 2026 and a 10% increase in the medium-term target to a 50% reduction by 2035.
The company stated that "responsible decline in our coal portfolio" would help to meet critical regional energy needs as "decarbonisation pathways will be non-linear across time and geography".
Progress on its climate action plan would be put to shareholders for an advisory vote at the annual general meeting in April.
Glencore's free cash flow of $13-billion was described by Citi analyst Ravi Ephrem as being "materially ahead of our expectations".
Barclays Ian Rossouw stated in a note that Glencore "remains our top pick", given its catalyst rich investment case, strong free cash flow and return potential that should ramp up meaningfully in the second half of the year.
RBC Capital Markets Research's Tyler Broda described the results as providing potential for Glencore to "start to further rerate", on the back of continued expectation of strong free cash flows. "We see the valuation as providing substantial support for a rerating," Broda reiterated.