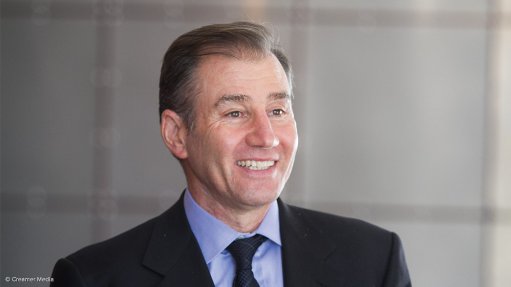 Ivan Glasenberg
Photo by: Duane Daws
JOHANNESBURG (miningweekly.com) – Diversified mining and marketing company Glencore spent $114-million on corporate social initiatives last year, representing 2.2% of group profit before tax, the company said on Tuesday.
The 181 000-employee, 50-country Glencore, headed by CEO Ivan Glasenberg, said the investment helped to meet fundamental needs in education, health and infrastructure.
The company added in its 2014 sustainability report that no lives were lost in the year at its coal, nickel, oil, iron-ore and aluminium departments, representing 40 000 employees and contractors, and safety was 42% better overall.
"We take our responsibilities very seriously; they're core to our approach to doing business," Glasenberg said in a media release sent to Creamer Media's Mining Weekly Online.
The large global diversified natural resource company – which produces and markets 90-plus commodities from more than 150 mining and metallurgical sites, oil production assets and agricultural facilities – pledged to pilot a social value creation scorecard in 2015, which would embrace local procurement, local employment, enterprise development, infrastructure spin-off for communities and social investment.
The company restated its ambitions of fostering sustainable growth and respecting human rights in alignment with the United Nations Guiding Principles on Business and Human Rights and committed itself to the continued support of major public health initiatives, including HIV/Aids, tuberculosis and malaria, with a particular focus on South Africa, Zambia and the Democratic Republic of Congo (DRC).
Reporting that 91% of its sites were without any new cases of occupational disease, the company identified health, safety, local community support, water management and union relations among the material issues facing its operations in South Africa, where it employs 35 338 people, the largest number for any single country.
In the DRC, it is engaging transparently with critics on water management, human rights, security and artisanal mining concerns and in Colombia it is sponsoring community programmes that seek to support victims of conflict.
It paid $5-billion to governments in 2014, an equal amount to employees in wages and benefits, and it spent $40-billion on procurement.
In an environmental protection measure, Glencore spent $500-million to upgrade the smelter at Zambia's Mopani mine, which has been singled out for recognition by the Extractive Industries Transparency Initiative.
Interestingly, it has a strategy of supporting 'best performers' regardless of age, gender or race.