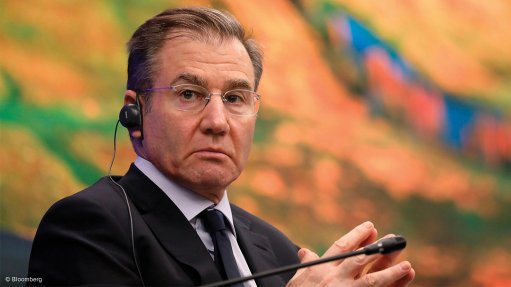 Ivan Glasenberg, who is handing Glencore reins to Gary Nagle.
Photo by: Bloomberg
JOHANNESBURG (miningweekly.com) – Diversified mining and marketing company Glencore on Friday announced its ambition to be a net-zero emissions company by 2050.
Glencore set out the pathway towards reducing its total emissions footprint by 40% by 2035, taking in scope 1, 2 and 3.
In an Investor Day 2020 presentation by CEO Ivan Glasenberg, CFO Steve Kalmin and industrial assets head Peter Freyberg, the company stated that it would achieve its climate-change goals by:
managing operational footprint through scope 1 and 2 emission reduction;
reducing Scope 3 emissions through investments in its metals portfolio, reducing coal production and supporting deployment of low emission technologies;
allocating capital to prioritise transition to metals that the world needs;
collaborating with its value chains to enable greater use of low-carbon metals and supporting progress towards technological solutions;
supporting uptake and integration of abatement, an essential contributor to achieving low- or net-zero carbon objectives;
using technology to improve resource efficiency and circular economy contribution; and
adopting a transparent approach by reporting on its progress and performance.
"The world is facing the challenge of meeting the increasing energy needs of a growing population, while radically reducing its carbon footprint. We believe the commitments and trajectory we outline today show how we are part of the solution," the company stated in a release to Mining Weekly.
"A significant portion of Glencore's earnings is derived from the metals and minerals that enable the transition to a low-carbon economy. As the world prioritises renewable technologies, battery storage and electric mobility, our business is well-positioned to meet the growing demand for the commodities that underpin these future-focused industries.
"Our ambition to be a net-zero total emissions company by 2050 reflects our commitment to contribute to the global effort to achieve the goals of the Paris Agreement," Glasenberg stated in the release. During the presentation, Glasenberg stated that 65 was the right age to hand over to the younger generation and announced Gary Nagle as the CEO designate.
"Our products enable the transition to a low-carbon economy. We are one of the largest producers and suppliers of copper, cobalt and nickel – metals that are essential to batteries used for electric vehicles and energy storage, as well as the infrastructure required for the transmission of renewable energy. The world needs these commodities if it is to achieve the goals of the Paris Agreement and limit the rise of global temperatures.
"The world is going to require many times more metal than is currently produced. We have a large production footprint and pipeline of projects in the commodities needed to build renewable energy grids, electrify transport and meet everyday needs. We also operate a large recycling business, through which we enable the reuse of critical products needed to deliver the transition to a low-carbon economy.
"The world today depends on fossil fuels – coal, natural gas and oil – to meet its energy needs. Under all credible scenarios, fossil fuels (oil, gas and coal) will continue to be an important part of the global energy mix for many years to come. We do not believe that selling our coal mines would help reduce the associated emissions. Responsible stewardship of our coal assets and responsible reduction of our coal portfolio, while maintaining a focus on our high-quality coal assets in Australia, supports our ambition to reduce our total emissions to achieve net zero by 2050.
"A low-carbon future requires low-carbon metals. As a mining and trading company, we are uniquely positioned to work directly with our customers and relevant industry groups to support and promote the greater use of low-carbon metals, and to form strategic partnerships that enable critical transitions in transportation, infrastructure and energy systems," the company stated.