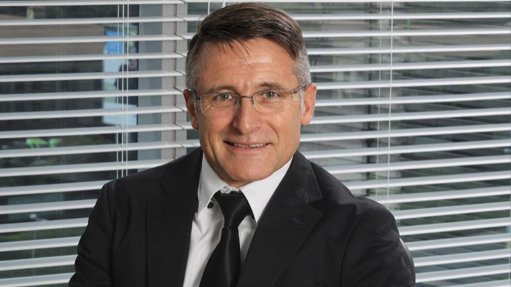 Glencore Alloys CEO Japie Fullard
JOHANNESBURG (miningweekly.com) – The ferrochrome business of diversified mining and marketing company Glencore, which uses a substantial amount of electricity, is evaluating various clean energy projects, Glencore Alloys CEO Japie Fullard said during this week's Glencore media conference.
The media conference followed this week's presentation of results, where Glencore displayed a slide projecting a 30% increase in its ferrochrome production in 2021, up from the 1 029 000 t of ferrochrome produced in 2020, to the 1 400 000 t expected this year.
In response to a question posed by Mining Weekly, Fullard said the ferrochrome business had on-site projects, where it was looking at cogeneration and other alternatives, as well as bigger projects, where virtual power purchase agreements (PPAs) were under consideration.
A virtual PPA is a form of price hedge. The project pays the company if the electricity is sold into the market above the agreed contract price, and the company pays the project the difference if the electricity falls below the agreed price.
"We'll have to wheel into the grid and we're fairly far advanced in terms of evaluations," said Fullard, who spoke after Glencore CEO Ivan Glasenberg revealed that his company was helping to develop other forms of energy in South Africa, including solar, and parties who were able to supply solar energy were being supported.
As reported by Mining Weekly, in November, Glencore Alloys issued a prequalifying tender for companies interested in supplying 'alternative green' electricity and storage solutions to its chrome and vanadium operations in South Africa.
In the tender notice, Glencore Alloys states that the generation facilities should have a capacity to produce between 10 MW and 20 MW of electricity, with storage capacity of 1 MWh to 2 MWh.
The tender was issued following a commitment by South Africa's struggling ferrochrome industry to develop 750 MW of self-generation over the coming 36 months as part of a broader trade-off response to government's decision to consider the imposition of an export tax on chrome ore.
Fullard told the media conference that the export tax on chrome ore had been promulgated late last year but had still to be executed.
"Although the concept is approved, we have not yet seen an upswing of that yet. But we firmly believe that because we've got the chrome ore in South Africa, it will definitely assist the ferrochrome business locally," Fullard added.
South Africa currently exports 13.6-million tonnes of chrome ore yearly, from total production of 22.7-million tonnes. Its share of the global ferrochrome market has declined to 27% from 39% in 2009, largely because electricity tariffs charged to the industry have surged by 523% over the past ten years.
The proposed tax would seek to ensure that South Africa's ferrochrome manufacturers had a price advantage relative to ferrochrome firms in other jurisdictions, including China, the main market for exported South African ore.
The Glencore Alloys tender comes amid a concerted push by other South African miners and heavy industrial firms to implement self-generation projects as a way of mitigating the risk of load-shedding and improving tariff-path certainty.
Electricity pricing in South Africa has escalated by more than 500% over the last ten years and with more electricity tariff upsurge on the way, the operation of ferrochrome smelters has become increasingly less competitive.
The ferrochrome business has invested considerably in pelletisation to increase its own efficiencies.
South Africa's ferrochrome industry as a whole employs 6 851 people directly, supports 68 000 jobs overall, contributes R41-billion to South Africa's gross domestic product, pays R14-billion a year to State power utility Eskom, has pay-as-you-earn tax payments of R1.4-billion, buys 2.5-million tons of product a year from 20 South African reductant mines, and accords R42-million a year in social support and local enterprise development