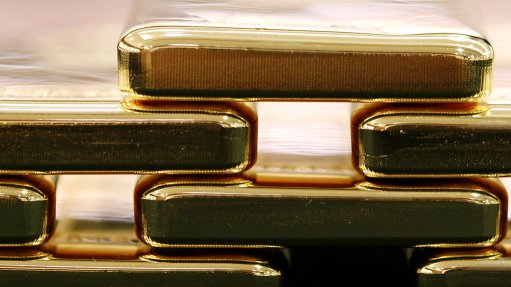 GOLDEN GROWTH The production of gold – Ghana's flagship mineral – increased by 93% from 2.24-million ounces in 2002 to more than 4.3-million ounces in 2012
Ghana's favourable investment climate has succeeded in attracting some $13.5-billion in mining investment over the last two decades, highlighted Lands and Natural Resources Minister Alhaji Inusah Fuseini at February's Investing in African Mining Indaba, which took place in Cape Town.
"Currently, Ghana boasts 13 operating mines: 11 gold mines and one each for bauxite and manganese," he said, adding that Ghana also features small industrial mining operations for limestone, solar salt, clay and granite.
Further, he highlighted that leading multi- national mining companies, such as AngloGold Ashanti, Newmont Mining Corporation, Gold Fields and Golden Star Resources, among others, continued to operate in the country.
"The key results of these investments have shown significant increases in production of all the major minerals, namely gold, manganese, bauxite and diamonds," said Fuseini.
Meanwhile, the production of gold – Ghana's flagship mineral – increased by 93% from 2.24-million ounces in 2002 to more than 4.3- million ounces in 2012.
Similar percentage increases occurred in the production of other major minerals. However, provisional figures for 2013 show a 10% decline in gold production, compared with 2012 levels, owing to the global gold price drop.
In addition, the country's total mineral exports have risen from below 20% in the mid-1980s to 41% in 2012, with gold considered to be Ghana's largest economic contributor since 1991.
The country's total export revenue from 2012, including the sale of gold, diamond, bauxite and manganese, amounted to $5.8-billion. This represented a 14.58% increase, compared with 2011's $5-billion revenue. Of the 2012 figure, total gold revenue comprised $5.6- billion, representing 97.8% of total mineral proceeds.
"Currently, the mining sector contributes 27% of domestic tax and employs around 28 000 people in the large-scale mining sector and about one-million people in the small-scale mining sector," said Fuseini.
As at December 2013, 235 local and foreign companies held prospecting or reconnaissance licences in Ghana. Thirty-seven companies had been granted mining leases.
"The mining sector, however, has the potential to significantly improve its contribution to Ghana's gross domestic product if it is fully integrated with the rest of the economy. Thus, the goal of the government is to consciously plan and create opportunities for the development of linkages in the mining sector," said Fuseini.
Challenges
He further highlighted several challenges facing the African mining industry, where, apart from South Africa, most of the investment comes in as foreign direct investment.
"A key challenge that received prominent discussion by world leaders in 2013 relates to issues of tax evasion and avoidance through transfer pricing, profit shifting and other forms of sophisticated financial manipulation to avoid paying the required taxes to host countries with mining economies," he said.
Fuseini added that, at the recent meeting of the Group of Eight major economies in Northern Ireland, transparency in the extractive industry was one of the core issues discussed. "We believe African countries need to train their personnel or, where possible, solicit external experts to assist in dealing with this problem," he said.
Besides transparency issues, Fuseini cited the volatility of commodity prices, especially the gold price, as another key challenge currently facing the industry.
"The price of gold witnessed a significant fall in 2013 owing to several factors, including commodity price dynamics and the strong US economy. The falling price of gold is a major concern, especially for mineral-dependent economies such as Ghana," added Fuseini.
From the almost $1 700/oz monthly average in January 2013, the price consistently declined throughout the year, except for a brief revival in August and September, to a monthly average low of $1 227/oz in December 2013.
This led to the dismissal of about 2 000 workers in Ghana's mining industry, with threats from other mining companies to retrench more workers. "Government is studying the situation and has engaged mining companies in discussions, bearing in mind that, apart from one underground mine, all other operations are surface mines. In addition, weak gold prices should affect other mining operations even more seriously in high-cost gold-producing countries," he said.
Support from Government
Meanwhile, Ghana demonstrated its commitment to disclosing mining revenues long before the global Extractive Industries Transparency Initiative (EITI) was developed by publishing quarterly reports on the minerals sector. Ghana signed the EITI in 2003, improved the templates developed for global reporting and attained full EITI compliance status in 2010.
The government has also implemented various strategies to improve the operating environment. "Notable among these is the inter-Ministerial taskforce, which is complementing the efforts of regulatory agencies to deal with the menace of illegal mining on large-scale exploration and mining concessions, as well as in unauthorised areas, including water bodies," said Fuseini.
As a result of these interventions, there has been a significant reduction in the activities of illegal operators and the Ghanaian government will continue to support the regulatory agencies to curb these illegal activities, promised Fuseini.
There is also active collaboration among regulatory agencies, the Ghana Chamber of Mines, industry associations and civil society organisations. "An example is the involvement of all stakeholders in the finalisation of the draft minerals and mining policy, which is ready for submission to Cabinet," said Fuseini.
He added that all programmes and activities implemented in the mining industry are carried out in conjunction with stakeholders. Another example is the collaboration between government and industry to promote local content procurement.
Further, acting in harmony with regional and international partners, Ghana has imple- mented principles that are established in regional and international conventions, and has endorsed other instruments and under- takings that are relevant to mining – and to which Ghana is a party or signatory – including the banning of illicit minerals trade.
Minerals Diversity
Moreover, to ensure that the economy does not suffer setbacks as a result of weak gold prices, government's policy is to diversify its minerals production base rather than operate a monominerals economy.
In this regard, government carried out a mining sector support programme, with financial aid from the European Commission. The current natural resources and environmental governance programmes have shown indications of exploitation of minerals other than the traditional ones.
"Results so far indicate appreciably high values of manganese, cobalt, zinc, copper, nickel, uranium and chromite. This is suggestive of base metal occurrences and other minerals in Ghana's Buem Formation," said Fuseini.
Considering the large amount of data that is available in these areas, Ghana's government has developed a policy to grant licences for these areas through a competitive tendering process. With this in mind, comprehensive guidelines, which have been developed to guide the tendering process, will be gazetted by the Minerals Commission by the end of the year.