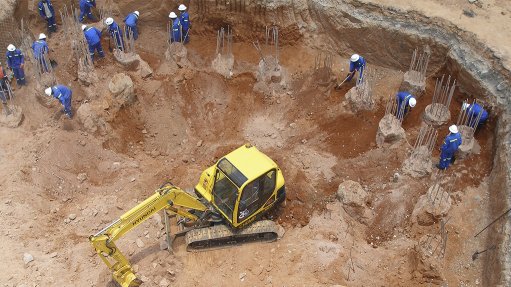 BUILDING IN-COUNTRY EXPERTISE Despite challenges, SRK Consulting continues to build capacity in West Africa
Much of the success of consulting engineers and scientists SRK Consulting's office in Accra, Ghana, is based on the company's local knowledge, represented by experienced professionals from West Africa, states SRK Consulting principal resource geologist and SRK Ghana country manager Ivan Doku.
SRK's networks in the region enable it to draw on engineers and scientists who understand local conditions and have spent much of their careers in West African mining.
SRK builds on this capacity by working with other SRK offices, where colleagues in other countries contribute specialist skills to projects, and provide mentoring and training where required.
"In this way, we contribute to West African mining's localisation efforts, to build expertise in-country and increase the value that host countries gain from their mineral sectors. Our multidisciplinary capacity also means that we can continue to expand the range of our disciplines available to clients."
Doku stresses that having a base in West Africa places the company closer to client operations, enabling SRK to travel quickly and cost-effectively to sites when needed while enhancing its attractiveness to the West African mining market, particularly with Covid-19 disrupting international travel.
Travel Restrictions
While mining in West Africa has mostly been able to navigate the disruptive effects of the Covid-19 pandemic, the sector is still coming to terms with evolving travel restrictions.
"Much of SRK's work can be conducted remotely, but it's still important for certain professionals to be on site for critical work or investigation," adds Doku.
West African countries are rolling out vaccination programmes, antigen testing is done at national points of entry, and results are readily available, with no requirement to quarantine.
Doku states, however, that there has been a seven-day quarantine required since July for personnel at certain mines in Guinea and for consultants travelling to site to conduct work over multiple days. This requirement has impacted on SRK's efficiency and has cost implications.
The regulations in Guinea also require all international travellers to be fully vaccinated.
These regulations have also raised concerns that Economic Community of West African States countries will implement similar restrictions, restricting people's ability to cross borders to work.
"In Ghana, it's a requirement for local companies with offices abroad, which provide services for the mining companies, to obtain a licence from mining body the Minerals Commission, referred to as a Mincom licence. This is done yearly to enable expatriate staff to physically access mining sites."
Doku points out that the licence costs $10 000 and must be renewed yearly, adding that there is uncertainty as to whether this amount can be waived if it can be demonstrated that no direct access has been granted to expatriate staff in a given year.
He argues that this requirement provides an advantage for SRK's competitors that have no local presence, as the legislation negates any motivation for companies to create jobs locally or develop local capacity that can benefit from collaboration and expatriates.
"What remedy does the local company have if the net profit from using expatriate staff cannot defray the cost of the Mincom licence. Ultimately, local companies need to find a means of rolling over such costs to their clients, which negatively impacts on the local company's competitive advantage relative to that of the foreign-based mining consultants."
The ease of doing business is becoming increasingly difficult and expensive, states Doku.
Involvement Around Ghana
SRK's Ghana office has traditionally been involved in geotechnical and tailings projects in the gold sector but has now expanded to geological work.
This geological work includes work on a reconnaissance study on a potential gold mineralisation in the Wassa-Damang area, which hosts operations of some gold majors. This study is aimed at target generation for potential investors.
Additionally, SRK undertook practical, on-site openpit training for a client in Guinea earlier this year. This involved an audit of the tailings storage facility and a geotechnical investigation to progress the underground mine project to prefeasibility stage. The company has also just completed a similar exercise for a midtier mining company in Burkina Faso, as well as an openpit geotechnical study in Niger.
"We plan to continue building the capacity of our SRK Ghana office in collaboration with our local network. We are aiming to have a fully functional practice servicing the greater West Africa region and beyond, with the ability to service our clients using locally based professionals who can plug into our global knowledge and experience when required," he concludes.