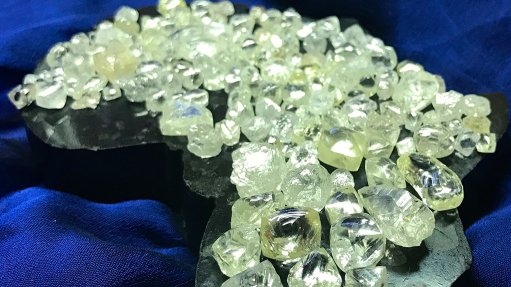 IN SEARCH OF ALLUVIALS The surveys was intended to assess the effectiveness of geophysical techniques for alluvial diamond exploration
Photo by: Steyn Diamante
Ground geophysical surveys have been carried out by the Council for Geoscience (CGS) on a farm that hosts an alluvial diamond mining operation near Schweizer-Reneke, in the North West.
The North West is host to what were previously known as the Southwestern Transvaal diamond fields.
The surveys formed part of a CGS training programme and were also intended to assess the effectiveness of geophysical techniques for alluvial diamond exploration.
CGS geotechnologist Matome Sekiba elaborates that the geophysical techniques that were assessed included magnetics, radiometrics, gravity, electrical resistivity tomography (ERT), time domain electromagnetics (TDEM) and refraction seismics.
The alluvial diamonds occur in red gravels at depths varying between 1 m and 5 m, depending on the bedrock topography. These gravels overlie Swazian biotite gneiss, pegmatite and granites in the greater western portion of the farm, while, to the east, the gravels overlie Rietgat andesitic lavas, conglomerates and shales.
Sekiba says the magnetics results indicate subtle magnetic high anomalies that are likely attributable to the high concentration of iron oxides, such as magnetite and ilmenites, which are often associated with alluvial diamonds.
He comments that, based on this observation, magnetics therefore offers a quick and economic method of delineating areas that have the potential to host diamondiferous gravels.
"Gravity delineated a gravity low zone in the western portion of the study area but, considering the shallow depth of the gravels, this was not considered an economic method to apply."
Sekiba notes that a TDEM profile carried out on fresh ground that has not yet been mined indicated a depression coinciding with the gravity low and subtle magnetic high anomalies. He says that this depression could be indicative of the old drainage system that facilitated the deposition of the alluvial gravels.
Sekiba highlights that the ERT and seismic refractions showed comparable results, but notes that the challenge with ERT is that it is not able to distinguish between the topsoil and the gravel.
Nonetheless, Sekiba states that the method is "very useful" for bedrock topography mapping, which assists in mine planning. He says that magnetics, gravity and TDEM detected near-north–south-orientated interpreted fault structures that are known to be suitable for high-yield water boreholes.
Sekiba says that these inferred structures could be a source of water for the alluvial mine. However, considering the shallow depth of the gravel occurrences, the use of ERT and seismics is not likely to be economic for exploration purposes.
"Radiometric results proved difficult to use because of the excavations that are scattered on the farms. It is recommended that magnetics be deployed as a cost-effective primary exploration tool in the area and its immediate surrounds," he concludes.