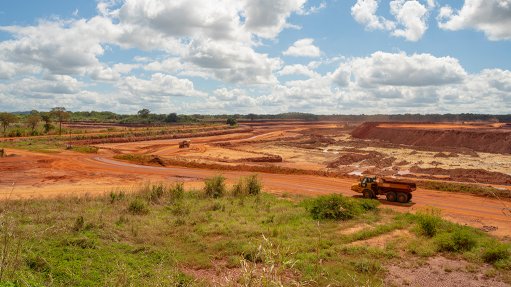 The Montepuez ruby mine in Cabo Delgado, Mozambique.
Gemstone miner Gemfields, which has operations in Mozambique and Zambia, has reiterated the emphasis it places on operational personnel's safety in Mozambique following a series of insurgent attacks in the country, with a current hotspot in the Cabo Delgado province.
It has been alleged that the insurgent attacks are fuelled by members of a jihadist group affiliated with the Islamic State and a desire to expand its influence, with increasingly violent attacks having taken place in Mocímboa da Praia in 2017 and a siege of the town of Palma in 2021.
Gemfields has a 75% stake in the Montepuez ruby mine (MRM) in Mozambique that covers 33 600 ha in Cabo Delgado.
The mine employs about 1 400 people, with 95% comprising Mozambican nationals, and plays an important role in Cabo Delgado, providing training, and supporting education and healthcare in local communities, Gemfields explains to Mining Weekly.
However, the mine elected to evacuate its nearby 75%-owned Nairoto gold exploration camp and MRM on separate occasions in the past five months for the safety of mining and prospecting personnel as a result of insurgent attacks in the province.
The Nairoto exploration camp is 83 km north of MRM and about 15 km southwest of the village of Nairoto, where an attack attributed to insurgents took place shortly before midnight on February 12.
This event prompted Gemfields to evacuate operational employees and contractors, ceasing operations at the site. Its MRM operations were, however, not affected.
On June 6, 2022, several attacks attributed to insurgent activity occurred in the vicinity of Ancuabe, in Cabo Delgado, which is about 65 km east-northeast of MRM. At the time, the majority of insurgent activity occurred more than 150 km to the northeast of MRM.
At that time, Gemfields issued travel restrictions to MRM personnel owing to the incidents occurring between 15 km and 40 km north of the N1 and N14 roads – the principal route used by MRM to travel to and from the coastal town of Pemba, the provincial capital.
A subsequent closer attack on June 13, 2022, in the Muaja village area, lying about 30 km by road from MRM, saw Gemfields electing to continue the MRM operations after conducting a security review but with increased vigilance.
An even closer attack on October 20, 2022, at a ruby mine neighbouring MRM saw Gemfields evacuating operational employees and contractors from MRM. This time, MRM operations were suspended, with mine security personnel and Mozambique police being complemented on site by members of Mozambique's military forces.
MRM personnel returned to site on October 24, 2022, accompanied by Mozambique military members, for safety reasons.
CAUSE FOR CONCERN
The two most recent evacuations of MRM and Nairoto present "a cause for considerable concern" to everyone at Gemfields, particularly to those in Mozambique, Gemfields tells Mining Weekly.
The miner stresses that the health and safety of its employees and contractors is "clearly our highest priority".
Gemfields explains that it actively monitors insurgency activity in the Cabo Delgado province, with risk levels varying at different times. "Gemfields has emergency planning in place to prioritise the protection of our people and operations. We remain in close communications with the police, military and government."
In the last 18 months, the miner points out that incidents involving the insurgents have occurred closer to Gemfields' operations than previously, partly because the insurgents have been pushed out of areas where natural gas developments are under way in the northeast of the province and have therefore migrated to the south, southwest and west.
MRM has been Cabo Delgado's highest taxpayer since 2014, with 23% of MRM's revenue going to the Mozambican government in taxes and mineral royalties, currently exceeding $200-million to the government, in aggregate.
"We believe MRM to be a 'lighthouse' project in a province that desperately needs jobs and economic growth. We are naturally concerned about the impact on all stakeholders should the situation further deteriorate," Gemfields states.
Gemfields says the disruption caused by the insurgent activity has resulted in no material impact on ruby production from MRM – one of the most significant recently discovered ruby deposits in the world.
"Our operations in Nairoto have been paused in light of the latest insurgent attacks and, therefore, the prospects of further exploration work, hopefully leading to further jobs and economic growth, is suspended for the time being," the miner concludes.