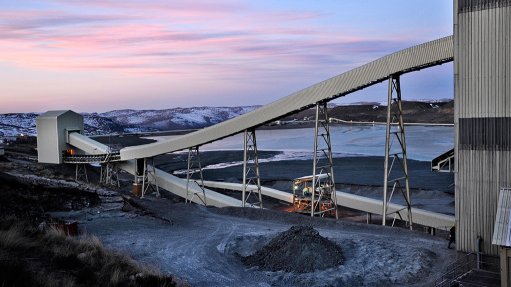 Gem Diamonds' Letšeng mine, in Lesotho
London-listed Gem Diamonds recovered four diamonds greater than 100 ct in the last quarter of 2020, bringing the total for the year to 16.
The company reports that all its operational guidance metrics for the full year were achieved, including selling 99 172 ct at an average price of $1 908/ct, realising revenue of $180-million for the year.
The company recovered 100 780 ct in 2020, compared with 113 974 ct the year before, mainly as a result of Lesotho's lockdown period in the second quarter of the year, which limited production from the company's 70%-owned Letšeng diamond mine.
Gem sold ten diamonds for more than $1-million each in the last quarter of the year, bringing the total number of diamonds sold for greater than $1-million to 34 for the year.
The company says the diamond prices achieved in the latter part of the year were higher than those released, on a like-for-like basis, before the onset of the Covid-19 pandemic in the first quarter of the year, reflecting overall improvement in market conditions.
Gem ended the year with net cash on hand of $34.2-million, with available facilities totalling $60.8-million.
The company declared $27.2-million in dividends, of which $17-million was already paid before the year ended, resulting in a net cash flow of $11.3-million at the end of the year.