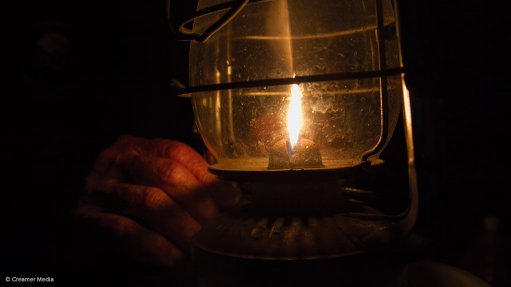 MOZAMBIQUE POWER In the past twelve years, the percentage of families that have access to electricity in increased from 7% to 45%
Photo by: Duane Daws
Organisers of the yearly Powering Africa: Mozambique investment meeting, EnergyNet, say this year's two-day event, held last month in Maputo, focused on getting the mining sector and other industries that have energy-producing capabilities to contribute to Mozambique's national grid to improve its attractiveness as an investment destination.
EnergyNet MD Simon Gosling tells Mining Weekly that, during the company's 12 years of working to actively promote Mozambique as an investment destination worlwide, the country has moved from being one of the bottom three countries in Africa in terms of access to energy to being one of the top three.
He says the country has also increased the percentage of its population with access to energy from 7% to 45%.
"If one decision that was made at the Powering Africa meeting leads to 1 MW of power being added to the output of the country, then we will deem it a success. This is a target that we set for ourselves with every meeting and, so far, we have been able to meet it, with [mining major] Vale being an example of how Mozambique's industrial output can increase access to energy in the country," he explains.
Gosling adds that there is "real opportunity" for mining companies in Mozambique to use the excess generation capacity of their power plants to deliver power to communities. He cites Vale as an example of how "correctly managing" power-sharing initiatives can diversify a mining company's business and add significant value to its finances, while benefiting communities and the country.
Vale started construction of Phase 1 of the Moatize coal mine in 2012, with
Phase 2 starting in 2014 and scheduled for completion in 2017. Once completed, the mine will have established the first coal-fired power plant in Mozambique, with a total power-generating capacity of 300 MW, of which 50 MW will be supplied to the country's power grid.
During the Powering Africa: Mozambique event, Institute of National Petroleum Republic of Mozambique chemical engineer Natália Camba and South African State-owned power utility Eskom Southern African energy unit GM Willem Theron delivered presentations.
Other key speakers included Mozambique State utility EDM board member Carlos Alberto Yum, Development Bank of Southern Africa project preparation specialist Madalo Minofu, Hidroeléctrico de Cahora Bassa board of directors executive member Moisés Machava and Confederation of Economic Associations of Mozambique executive director Luis Eduardo Sitoe.
"We were delighted to have so many international banks; engineering, procurement and construction (EPC) contractors; leading power developers; exploration companies and advisers present, as it really shows that investors are not waiting to be invited to invest, but are rather proactive about their role in the sector and will collaborate to achieve their objectives, which is very exciting," Gosling details.
He says that investors' appetite for projects in Mozambique was also discussed at the conference, as "the need for a clearer understanding of the industrial clusters and offtaker projects that would fund energy projects" was recognised. He adds that, in this context, a strong legal framework is required to support the sector's growth.
"Crucially, timelines around the infrastructure development to export gas. . . regionally and further afield, as well domestic supply obligations, were a hot topic that will build confidence among investors," Gosling states.
About the Meeting
Powering Africa: Mozambique's delegates ranged from government and public- sector representatives, local and international banks, power technology providers, EPC contractors, power developers and independent power producers to lawyers and consultants.
"The meeting started as purely a finance meeting and developed into the Gas Options meeting four years ago, when the diversified energy landscape and interest reached a level where, to meet the objectives of government, we had to look at a broader, more inclusive investment meeting," Gosling explains.
He further notes that, owing to the success of the investment meeting, EnergyNet is financing 20 students from Africa – as part of the EnergyNet Student Engagement Initiative – to attend international forums in Turkey, China and the US, as well as the company's in-country meetings, which drill down into opportunities for investors.
"Twenty-five per cent of our students are Mozambican and have been educated in Mozambique. They are a shining example of the available skills if you look properly. These final-year students are among the best on the continent; we provide workshops for them and introduce them personally to some of the most important international investors working in Africa today," he concludes.