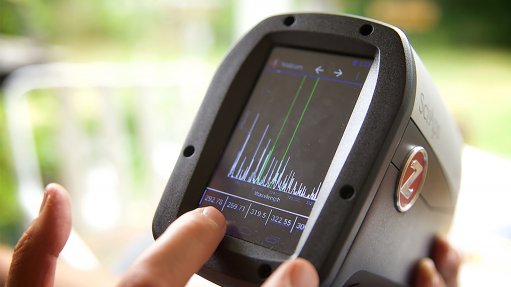 Gammatec NDT Supplies specialises in manufacturing, marketing, sales and support for the non-destructive testing (NDT) industry.
Headquartered in Vereeniging, South Africa, Gammatec is the proud distributor of Handheld Laser Induced Breakdown Spectroscopy (HH LIBS) devices from US-based instrumentation company SciAps. LIBS operates by using a pulsed, focused laser fired at a sample, causing it to emit light associated with specific elements in the periodic table and thus
quickly determining a sample's chemical composition.
Traditionally used as a laboratory technique, LIBS analysis is now available in a small, lightweight handheld device capable of analysing any element in a sample, depending on the spectrometer range chosen for the device.
The Z-series analyser from SciAps is the world's premier HH LIBS instrument, featuring the most advanced technology ever created in a handheld elemental analyser.
The Z-300's spectrometer range covers 190 nm – 850 nm, customisable up to 930 nm. It offers instant analysis of every element in the periodic table, for nearly all materials, anywhere on the planet. The analyser features a pre-configured android, application (app)-based software platform, allowing for the addition of calibrations as required. The Z handheld LIBS includes a full-featured desktop or tablet software package with spectral pre-processing, chemo-metrics, emission line identification for any element and quantitative calibration setup. Users can also create custom analysis models, element lists and calibrations.
The Z handheld LIBS is ideal for a range of applications, including:
Quick pre-screening of laboratory samples for a qualitative or quantitative list of elements and approximate concentration ranges, prior to digestion.
Instant analysis of any elements present in Geochem, Archaeology or forensics samples in the field
Rapid elemental pre-screening before laboratory analysis
The SciAps Z handheld LIBS, available from Gammatec NDT Supplies, is perfect for the lab, the classroom and in the field.