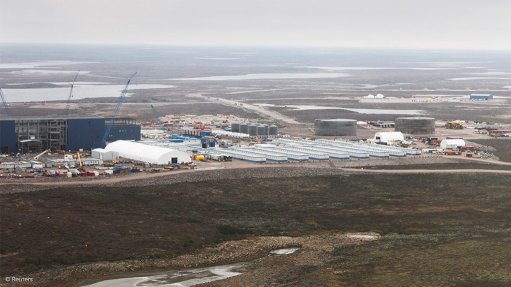 The De Beers and Mountain Province Diamonds-owned Gahchu Kué mine, in Canada's Northwest Territories
Photo by: Reuters
VANCOUVER (miningweekly.com) – The 51%/49% De Beers and Mountain Province Diamonds-owned Gahchu Kué mine produced more than five-million carats of diamonds in the first ten months of 2017.
Located in the remote Northwestern Territories of Canada, the mine declared commercial production in March, and is expected to produce an average of 4.5-million carats a year – a target it met by early October.
Gahcho Kué GM Allan Rodel pointed out that the higher-than-expected recovered diamond grade of 2.07 ct/t through the first nine months of this year, along with excellent work identifying and removing bottlenecks in the process plant, is allowing the team to handle the added tonnes of ore that are being delivered consistently by the mining team.
Gahcho Kué's production is now playing an important role in De Beers Group's global production portfolio and supported a significant rise in the group's overall rough diamond output levels over the first three quarters of 2017.
De Beers Canada CEO Kim Truter advised that much of the early success can be attributed to the "tremendous project phase, that set the mine up with the right technical, safety and economic cultures".
Representing the third mine De Beers has built in Canada in a decade, Gahcho Kué is the world's largest new diamond mine in 13 years.
"The depth of diamond mining experience within De Beers is unmatched in the industry. The safety and operating performance at Gahcho Kué has been excellent and we congratulate our operating partner on achieving the five-million carat milestone well ahead of our original plan," said Mountain Province Diamonds interim president and CEO David Whittle.