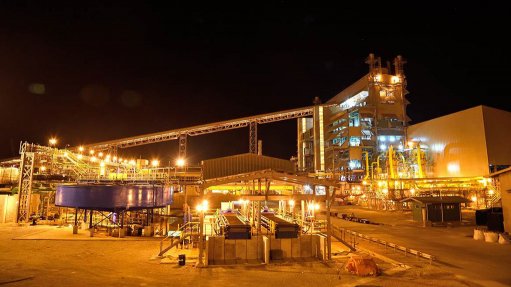 ENHANCED AVAILABILITY The submerged arc furnace provided by Metix have enjoyed an availability rate of more than 98% since installation
Two custom built 81 MVA submerged arc alternating current (ac) furnaces – designed and supplied by South African process and engineering firm Metix to Malaysia-based joint venture (JV) smelting facility Sakura Ferroalloys – have outperformed industry expectations since the smelting facility's completion in 2016.
Sakura Ferroalloys (Malaysia) is a global JV company with shareholding, comprising base minerals and metals mining company Assore (South Africa), diversified mining company African Rainbow Minerals (South Africa), manganese alloy smelter Assmang (South Africa), integrated trading Sumitomo Corporation (Japan) and steel producer China Steel Corporation (Taiwan).
The furnaces, supplied as part of a full, greenfield engineering, procurement and construction contract, are performing "staggeringly well" with regard to required power input, production output, availability and product quality to date, says Metix MD Andrew van Niekerk.
He explains that the furnaces are each designed to produce 105 000 t/y of high-carbon ferromanganese with 76% manganese (Mn) content or 70 000 t/y of silicomanganese with 65% Mn and 17% silicon content. He adds that the furnaces are currently the largest submerged arc furnaces in Malaysia and are the first closed furnaces to be used in the area.
He says the furnaces are running at more than 120% of their original design capacity and have enjoyed an availability rate of more than 98% to date. The furnaces have required lower energy input levels than expected and are producing on-grade product at lower particulate emissions than legally required, using state-of-the-art SMS Group dual redundancy venturi scrubbers.
Van Niekerk states that the implementation of their latest ferroalloy heat-processing technology, along with the superior operational know-how of the owners at the Sakura Ferroalloys smelting complex, can be attributed to "the overwhelming success" of the submerged arc furnaces.
"Using the latest monitored freeze lining systems, together with environment-friendly dust, water and gas solutions, as well as the technologies to ensure high availabilities, currently make this Malaysia's most advanced and energy efficient ferromanganese smelter complex to date."
Van Niekerk states that the furnaces use ac technology for ferromanganese and silicomanganese production which is preferred over direct current applications, as the ac technology allows for lower vapour losses of manganese and silicate. He further notes that closed furnace technology was used on the furnaces for environmental reasons, adding that the off-gas volumes are more than ten times less when using closed furnace technology as opposed to open furnace technology. He states that the use of these closed furnaces has subsequently reduced the total solid discharge to the local environment.
The furnaces each have a 14.3-m-diameter shell, are 8.8 m deep with a flat copper delta and tube-to-tube, water-cooled roof and 13 feed chutes. The copper feed chute tip arrangement ensures a constant bed profile that improves gas flow and furnace pressure control, when combined with the higher volume cylindrical roof design.
Computational fluid dynamics analysis of the gas flow below the roof is used to enhance the positioning of the gas offtakes, raw gas stack, feed chute tips and explosion hatches. An in-line, overpressure relieve device allows for the instantaneous release of overpressure conditions through the raw gas stack followed by the activation of backup pressure relief equipment.
Van Niekerk states that the furnaces are also equipped with three 1 700 mm Söderberg electrodes that are regulated and fitted with the Metix failsafe slipping devices. The electrodes form part of a novel adjustable pitch-to-circle diameter system for added flexibility during ferromanganese and silicomanganese production. These electrodes were designed specifically for the Sakura Ferroalloys project.
The furnaces' refractory comprises a freeze lining with temperature measurement and heat flux determination that is also a first for the Malaysian ferroalloy industry, according to Van Niekerk. He explains that excess heat is removed from the shell with serpentine cooling water channels on the side and forced air grillage cooling at the bottom of the furnaces.
Van Niekerk adds that both furnaces are fitted with online dust-monitoring systems, furnace pressure control systems, high tolerances on machined equipment from the furnace core to gas distribution, goose neck removal systems that reduce compulsory downtime, belt filters and dust extraction systems that capture fugitive dust throughout the raw material handling, as well as proportioning systems and taphole fume abatement system with dedicated bag houses.
The Sakura Ferroalloys (Malaysia) contract – first awarded in 2013 and finalised in 2016 – saw Metix designing and constructing two 81 MVA furnaces, including the raw materials handling, storage, proportioning, feed systems, furnaces, gas cleaning, alloy casting, slag handling, product crushing, screening and stockpiling, and associated ancillaries and infrastructure for Sakura.
Van Niekerk concludes that it has been an honour to work together with such a capable and supporting client and Metix is pleased to see the project – "with its variety of firsts" for the Malaysian ferroalloy processing industry – doing so well.