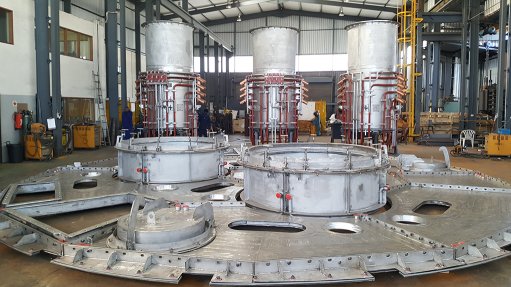 TOO COOL Water-cooled roofs, off gasses and shells are being supplied by Allied Furnace Consultants on two local rebuilds
Furnace technology designer and fabricator Allied Furnace Consultants (AFC) is currently supplying technology and equipment, including water-cooled roofs, water-cooled off gases and water-cooled shells, to two large rebuild projects in South Africa.
The projects service both the ferrochrome and ferromanganese markets.
"We are also securing another three rebuild projects, which will hopefully start later this year," says AFC process and marketing director Tertius Pieters.
He tells Mining Weekly that the company will start to phase in its workforce at 30% capacity, then 50% and finally 100%, when permitted in terms of the regulations and guidelines of the Covid-19 national lockdown.
He adds that there are very clear, gazetted directives from government for workshops, which the company must comply with to ensure a safe work environment for staff.
He suggests that adopting a unique business model helped the company to survive the 2008/9 economic downturn and that this experience has put it in good stead during the current Covid-19 situation.
"We have the ability to weather it much better than many other companies."
Pieters says AFC identified a gap in the market – between design and engineering houses, and the actual fabrication facilities – and "quickly realised how the combination of these two businesses can collectively benefit within a single entity".
Subsequently, AFC opened a multifaceted facility to cover projects from 'concept to concrete'. AFC's design and engineering offices are situated on the same premises as its fabrication facility in Jet Park, Gauteng.
This model, along with a favourable exchange rate, also assisted AFC in entering the international market.
The company's capabilities include, but are not limited to, AC and DC furnace shell, hearth and associated cooling systems, furnace water-cooled roofs and associated cooling systems, refractory designs, as well as electrode columns with associated bus tube/bus bar runs.
Its manufacturing services further include ladle furnaces, alloy ladles, transfer cars and ladle tilting systems.
AFC can also cut its own steel on a 14 m × 3 m bed using a high-definition plasma cutter.
Successfully Local
Pieters says that in a company that is 100% locally owned, wealth creation and sustaining capital reinvestment are different from retaining international shareholders who will have disparate and widespread investment appetites.
"[International shareholding] can become a double-edged sword, to the detriment of the local operations."
Moreover, it benefits the country that the wealth generated by employing local resources for design and engineering services, as well as fabrication and manufacturing, remains in the country, thereby facilitating local economic growth.
"Our country needs local beneficiation and manufacturing to create jobs and propel our economy in a positive direction," Pieters stresses.
He enthuses that AFC is "extremely proud" of its workforce, which has been with the company almost from inception, demonstrating that being focused and innovative can engender sustainability in a local market. This gritty "never say die" attitude has further enhanced the company's reputation in the local market.
He says the company entered the South African market and immediately began delivering "world class" technology and equipment and is "unmatched in terms of price and lead times".
"We believe that local design, engineering and fabrication will become more important amid the Covid-19 pandemic's impact on international supply chains," concludes Pieters.
AFC was founded in January 2005 by its founding members Pieters and Malcolm Theron. Its after sales capability is supported by its "unique" business model.