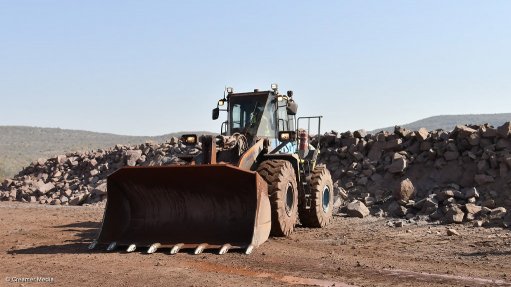 Photo by: Dylan Slater
RUST DE WINTER (miningweekly.com) – The R1.7-billion Nokeng fluorspar mine, which unlisted fluorspar developer Sepfluor has built north-east of Pretoria, in Gauteng, was officially opened on Thursday.
The mine is one of only two operating fluorspar mines in South Africa, although there is also a fluorspar tailings operation that produces calcium fluoride.
The Nokeng operation was expected to ramp up to full commercial-scale production by the end of August, Sepfluor officials reported during a visit to the mine site, near Rust de Winter, on Thursday.
The concentrator plant is in its final stages of commissioning with handover from contractor DRA Global and its metallurgical affiliate Minopex expected imminently.
At an average run-of-mine rate of 630 000 t/y, the mine will produce 180 000 t/y of acid grade fluorspar and 30 000 t/y of metallurgical grade fluorspar.
Sepfluor CEO Rob Wagner explained that Nokeng was in an "enviable position", as fluorspar prices had been rising since 2016, while a global supply deficit was emerging owing to mine closures in Namibia and Kenya, as well as tighter environmental regulations impacting on China's production.
"From a cost perspective Nokeng will be in the lowest quartile of producers worldwide," Wagner said during the site visit, which Mining Weekly Online attended.
The Nokeng orebody comprises a 12.2-million-tonne reserve, with the Outwash Fan deposit comprising 9-million tonnes at 22.7% calcium fluoride, and the Plattekop deposit comprising 3.2-million tonnes at 38.6%.
The high-grade Wiltin deposit is adjacent to Plattekop, and there are several exploration targets on the remainder of Nokeng's 1 309 ha licence area. There is also the Wallmannsthal operation, which is expected to start construction in two to three years from now.
Wagner noted that Outwash Fan had significant silica and iron content and that the latter would be removed by a wet high intensity magnetic separator and sent to the tailings dam. He noted that Sepfluor would undertake a scoping study to determine whether it was economically viable for the separated iron to be sold as a by-product.
Nokeng's products would primarily be exported to the US, Europe and India, but Wagner noted that there was also significant interest from China. Sepfluor has a seven-year offtake and marketing agreement with Traxys, which has partners in 20 countries. Traxys also has a stake in Sepfluor.
Operating cash flows from Nokeng would be used to fund the company's second mine, the Wallmannsthal fluorspar mine. Sepfluor already has the mining rights and water-use licence for the project, with Wagner noting that a definitive feasibility study should be completed in 18 months' time.
During the opening ceremony, Sepfluor chairperson Dr Lelau Mohuba expressed his gratitude to the stakeholders that had maintained their support over the years it took to bring the mine into development. He also commented that Wagner's appointment in 2015 resulted in a renewed focus, and that he and his team were largely to thank for Nokeng's progress.
Paraphrasing Neil Armstrong, Mohuba said that Nokeng was "a small step for the Sepfluor team, but a giant leap for the continent", referencing fluorspar downstream applications including refrigerants, ceramics, plastics and polymers, healthcare equipment, construction materials, electronic and electrical equipment and motor vehicles.
Mohuba further noted that Sepfluor was looking to establish a fluorochemical plant in Ekandustria near Bronkhorstspruit.
NOKENG SPECIFICS
Nokeng started the process of applying for a mining licence in 2007 and attained financial close in 2017, with development at the openpit fluorspar mine starting in June that year. The engineering, procurement and construction contract was awarded to a joint venture comprising DRA and Group Five. The latter went into business rescue toward the end of the construction phase.
The operation is highly automated, employing 135 permanent workers and 70 contract workers. Contract mining is undertaken by Andru Mining, while Stefanutti Stocks has a contract to manage tailings deposition at the downstream tailings facility and is able to accommodate up to nine-million tonnes of tailings.
In terms of infrastructure development, Nokeng upgraded the D567 provincial road to accommodate the mine. Further, it completed a 14 km, 132 kV overhead line under a self-build contract with State utility Eskom.
The mine's bulk water supply is drawn from three boreholes located within the project area, with water reuse optimised to limit the reliance on these reserves.
Nokeng management is also considering a photovoltaic grid tie to ensure security of supply. It currently relies on two diesel generators for backup supply.