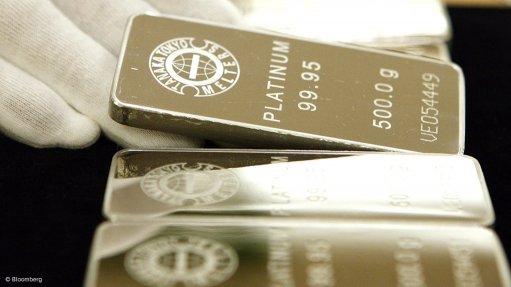 Photo by: Bloomberg
CAPE TOWN (miningweekly.com) – A move towards cleaner fuel and a focus on fuel cells for cars would be the sources of new demand for platinum, SFA Oxford chairperson Stephen Forrest told the Mining Indaba on Monday.
Forrest said that Toyota, Honda and Hyundai were all expected to release fuel-cell cars next year, with Daimler likely to follow suit in 2017.
Platinum loadings for fuel cells would be close to 14 g per car, possibly reducing later as technology improved.
Forrest described the current price of platinum as unsustainable and forecast that an eventual rise was inevitable, which was good news for platinum producers wanting to bring on new supply.
Today's prices were trading below the current break-even price of from $1 250/oz to $1 320/oz.
Demand for palladium was continuing to outstrip supply and the price of rhodium was likely to improve.
Forrest described South African as the centrepiece on the global mantle of metals, with Zimbabwe also a prize to be truly realised with its educated workforce ready to be deployed.
While costs would always be an issue, mechanisation and asset consolidation could play cost-containing roles.
In the long term, the outlook for platinum, palladium and rhodium demand was strong and demand would continue, with a positive effect on prices.
The story of Southern Africa, while ostensibly challenging in the short term, was one of huge underlying potential, he added.