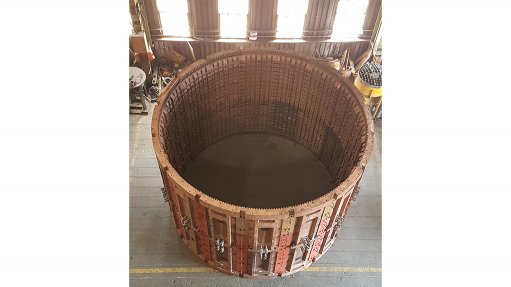 TIMEOUS TURNAROUND Thos Begbie is ensuring the interchangeability of furnace components at the Anglo Converter Plant in Rustenburg
Foundry and engineering company Thos Begbie expects to finalise production of the Phase B coolers for platinum producer Anglo American Platinum's (Amplats') Anglo Converter Plant (ACP) in Rustenburg, in the North West, by November this year.
This will ensure the interchangeability with the components of the plant's Phase A converter furnace.
"This would enable the ACP to reuse cooling elements in either furnace as spares, should either one of the furnaces fail," says Thos Begbie sales engineer Esli Bantjes.
The decision to replicate the Phase A converter was prompted by an explosion in February, which left the plant – a vital cog in the processing of South Africa's platinum – out of commission.
After assessing the damage, Amplats concluded that the Phase A components required replacing and decided to switch over to Amplats' Phase B converter. However, water was discovered in the furnace, halting startup to determine the origin of the water.
"With all types of furnace operations, any water or moisture present during startup could effectively cause an explosion," says Bantjes.
After repairs to Phase B, the converter was started up under care and maintenance.
Thos Begbie completed the manufacturing of 64 coolers for the Phase A converter in 16 weeks from date of order – three weeks longer than initially expected, owing to the 21-day hard lockdown.
Bantjes notes the short turnaround time was met by implementing additional shifts at the company's coil manufacturing, foundry and fettling production areas, as well as its use of computer-aided pipe bending machines that allow for the in-house manufacturing of coils to control lead times and quality.
The damage to Phase A required the remanufacturing of two rows of stave coolers and two rows of waffle coolers, as well as slag and matte taphole blocks.
The scope of work to upgrade Phase B, originally consisting of 32 waffle coolers and transition coolers on top, is identical to that of Phase A, explains Bantjes.
On completion, Phase B will have 32 stave coolers, comprising 40 000 kg of cast copper, and 32 waffle coolers, equating to 120 000 kg of copper.
Rebuilds
Thos Begbie is rebuilding some of the six-in-line electric arc furnaces at Amplats' Polokwane smelter, in Limpopo, to ensure safety and reduce unwanted downtime.
"As the matte and slag end-walls take more strain than that of the side walls, they will have to be replaced during a scheduled shutdown every two years," explains Bantjes.
The matte and slag levels constantly rise and fall in the furnace wing to interval taps, causing excessive wear, owing to erosion on the matte and slag end-walls.
"This becomes a safety risk, as the red-hot metal is in direct contact with the tapholes. If a burn-through should occur, it will cause water to leak into the furnace and, ultimately, cause an explosion, resulting in an unscheduled shutdown," states Bantjes.
The project involves the manufacturing of critical components, comprising 32 new copper coolers, as well as the refurbishment of 24 coolers.
Thos Begbie division Graphite Freezeline Solutions will also machine and install 7 t of graphite on the copper coolers, ensuring that components can be transported directly to site and installed without any additional value to be added.
The new coolers are due on site by mid-August.
The company is completing the final installation and curing of graphite tiles. In accordance with Covid-19 government regulations, Thos Begbie has implemented additional shifts to reduce contact between employees.
"Safety takes precedence over everything else and we congratulate the staff of Anglo American in working closely with us to ensure a healthy outcome," concludes Bantjes.