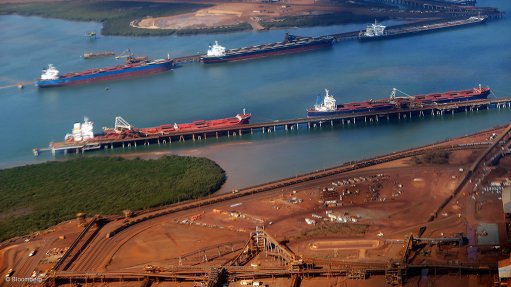 Photo by: Bloomberg
PERTH (miningweekly.com) – Iron-ore major Fortescue Metals on Wednesday reported a 4% fall in revenue for the half-year ended December, despite iron-ore shipments in the first half of the year reaching a record 96.9-million tonnes, a 4% increase on the previous corresponding period.
Revenue for the first half of the 2023 financial year was reported at A$7.8-billion, with underlying earnings before interest, taxes, depreciation and amortisation also falling 9% in the same period, to A$4.3-billion. Net profits after tax fell by 15% in the half-year, to A$2.3-billion.
C1 costs for the period under review increased by 14% to $17.43/t, up from the $15.28/t reported in the previous corresponding period, with Fortescue saying the increase in costs was primarily owing to the escalation of key input costs, including diesel, other consumables and labour rates.
Fortescue executive chairperson Dr Andrew Forrest told shareholders that the company had maintained its position as the world's lowest-cost iron-ore producer, while also decarbonising its operations profitably and becoming a global green energy, metals and products business.
"We have done this while delivering record iron-ore shipments, and finishing off construction of Iron Bridge. This has been a mammoth effort by our own construction team and will revolutionise the iron magnetite industry with new technology. This technology was successfully piloted at commercial scale prior to major construction."
Iron Bridge is set to produce its first product at the end of the March quarter, and the project's capital cost remains set at $3.9-billion, of which Fortescue's share amounts to $3-billion. At the end of December, the company had spent some $2.7-billion on the project.
"We are also advancing our Belinga project in Gabon, which once in production, will also have a positive impact on both our countries haematite iron-ore industries. Belinga will dovetail with our Pilbara operations to maximise the mineral content to our customers' satisfaction and extend and optimise the mine lives and efficiency of both our Pilbara and emerging Gabon complexes.
"To do this we are implementing a production plan now, that subject to our endemic fauna studies, will see first iron-ore shipped this year. This is possible because we are using an existing road and rail infrastructure which limits the possibility of environmental delays. This necessary equipment, which normally has very long lead times, is available to Fortescue now, utilising residual crushing and screening plant, haul trucks, rail cars and our own locomotives," Forrest told shareholders.
He added that Fortescue had also switched on the world's first green iron facility through an electrolyser and expanded its Major Automation Centre and Green Fleet Tech Hub in Western Australia, which had been responsible for the breakthroughs the company had made in zero pollution trucks and mobile equipment, train and ship engines.
"At Fortescue Future Industries (FFI) we are set to mark a milestone with the construction and handover of the Gladstone Electrolyser Manufacturing Centre at the end of March. As stated, we are on track to progress five green energy projects to final investment decision this calendar year in Australia, Brazil, USA and Norway.
"We have over this period in the UK established a major manufacturing centre in Banbury and a prototype facility in Kidlington for batteries, while in Australia building out the Gladstone two-gigawatt electrolyser facility which will commence commissioning shortly.
"Remarkably, over this period of growth we have reduced our debt and improved on what was already a very strong balance sheet, while continuing to create value for all our stakeholders, including our shareholders. When Fortescue does well, the entire Australian community does well, consistently contributing hundreds of millions of dollars to our state and federal government coffers every month."
Looking ahead at the full 2023, Fortescue has set a shipment target of between 187-million and 192-million tonnes, with C1 costs estimated at $18/t to A$18.75/t. Capital expenditure (capex) for the year, excluding FFI, is estimated at between $2.7-billion and $3.1-billion, with FFI's expenditure targeted at between $500-million and $600-million of operating expenditure and a further $230-million of capex.