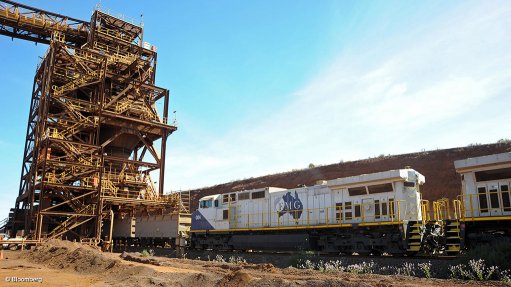 Photo by: Bloomberg
PERTH (miningweekly.com) – Iron-ore major Fortescue Metals has flagged another cost blowout and production start delay at its Iron Bridge magnetite project, in the Pilbara.
The miner in 2021 upwardly revised the capital cost estimate for the Iron Bridge project from $2.6-billion to $3-bilion, and moved its first production from the first half of 2022 to the second half of 2022.
The company later adjusted the capital cost estimate to between $3.3-billion and $3.5-billion, taking into account inflation and foreign currency exchange rates, as well as labour constraints.
Fortescue on Thursday told shareholders that capital estimates for the project have again been revised to between $3.6-billion and $3.8-billion, while first ore from the project was now targeted for the March quarter of 2023.
The miner said that Covid-19-related labour constraints, including isolation and absenteeism together with a tight labour market have contributed to workforce levels being significantly below the Iron Bridge project workforce plan for the March quarter. Other factors include ongoing supply chain issues, higher installation and construction costs, as well as escalation in logistics and shipping costs, which have been further exacerbated by the recent lockdowns in China.
Fortescue said that it continues to proactively manage Covid-19 and prioritise critical path work to minimise the impact on schedule.
Meanwhile, Fortescue on Thursday announced a 10% increase in iron-ore shipments for the three months to March, compared with the previous corresponding period, which contributed to record shipments for the nine months to March.
Iron-ore shipments in the March quarter reached 46.5-million tonnes, with year-to-date shipments recorded at 139.5-million tonnes.
C1 costs for the quarter were up 6% on the previous corresponding period, with Fortescue telling shareholders that strong volumes and an ongoing focus on cost management were offset by market inflation across key input costs, including diesel, other consumables and labour rates.
"Fortescue's excellent operating performance continues to drive strong results, with shipments of 46.5-million tonnes in the third quarter contributing to record shipments in the nine months to March 2022. This strong performance is underpinned by the successful delivery and ramp-up of the Eliwana project, and execution of our integrated operations and marketing strategy, resulting in the upgrade to 2022 shipment guidance to between 185-million to 188-million tonnes," said Fortescue CEO Elizabeth Gaines.
"We maintain a strong focus on safety and a commitment to zero harm, with total recordable injury frequency rate improving to 1.8 in the 12 months to March 2022. This was a particularly pleasing performance while managing the ongoing challenges resulting from Covid-19, with Fortescue successfully mitigating potential disruptions to our operations in the quarter by maintaining a comprehensive Covid-19 management plan to safeguard team members and communities through investment in business continuity planning.
"Fortescue's transition to a vertically integrated green energy and resources company continues to gain momentum. During the quarter, Fortescue completed the acquisition of Williams Advanced Engineering (WAE), providing Fortescue with critical technology and expertise in high-performance battery systems and electrification, with key integration activities well advanced. Together with Fortescue Future Industries, WAE will develop the Infinity Train, the world's first regenerating battery electric iron-ore train, eliminating diesel and the associated Ccarbon dioxide emissions from Fortescue's iron-ore trains.
"Building on our commitment to integrate sustainability into all aspects of our operations, Fortescue successfully completed its inaugural green financing offering in April 2022, with proceeds to be applied to decarbonisation initiatives as we deliver on achieving carbon neutrality by 2030.
"Against the backdrop of a record performance in our iron-ore business and our focus on decarbonisation and green energy, Fortescue is well placed to finish the financial year strongly, as we continue to meet demand from our customers and deliver on our strategic priorities," Gaines said.